By Megan Cassella
Oct. 31, 2022
The Nov. 8 midterm election will decide whether Democrats retain control of both chambers of Congress, or Republicans win power in either—or both. Much is riding on that outcome, from tax policy to defense spending to the likelihood of a debt-ceiling fight. And much is at stake for the markets, as well.
---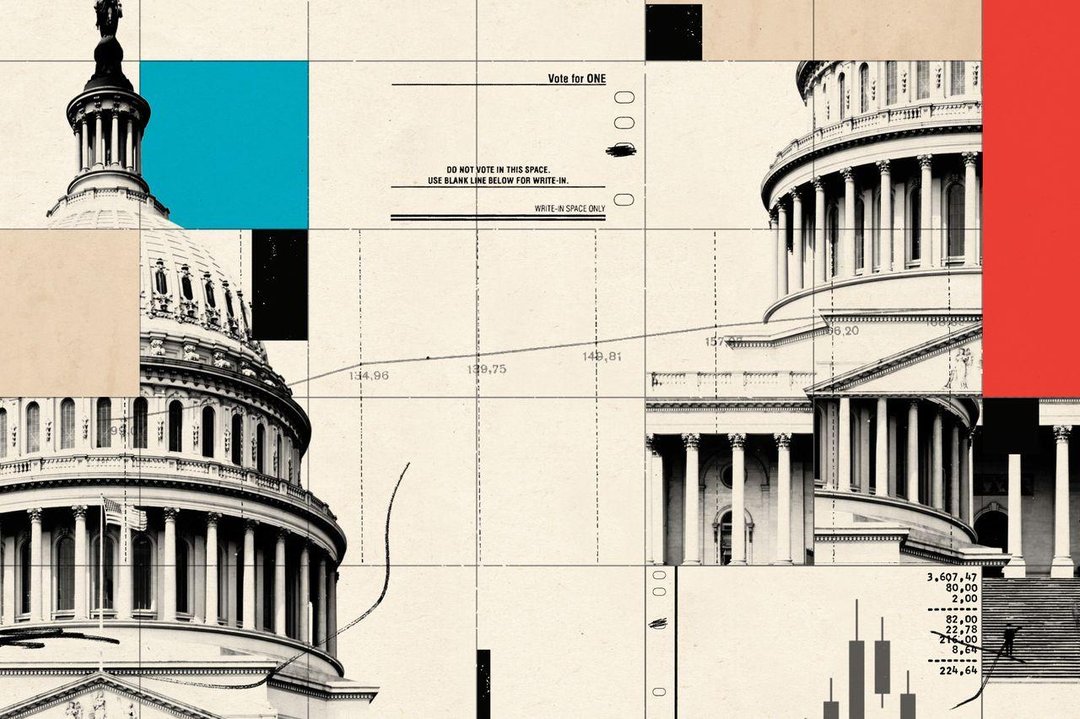 ---
If the GOP takes either the House of Representatives or the Senate, expect no new taxes and no inflationary fiscal spending over the next two years. If Democrats retain control, the focus will be on passing social spending legislation and, potentially, raising taxes to pay for it. A divided Washington could find room for compromise on the Farm Bill and industrial policy, but the need to raise the debt ceiling could spark a political brawl.
Here is a look at what to expect next year if either Republicans or Democrats win both chambers, or share control of the 118th Congress.
CONGRESS IS DIVIDED
More gridlock and brinkmanship; less legislation passed
Heightened risk of a government shutdown if two parties can't agree on a new budget in 2023
Fight over lifting the debt ceiling sometime next summer or fall; expect financial-market turmoil if a drawn-out process pushes the country close to defaulting on its debts
Little chance of fiscal relief in a recession
Bipartisan cooperation to pass a Farm Bill next year, with Democrats pushing for more money for conservation and nutrition programs and Republicans supporting rural interests, probably including crop insurance
Potential for bipartisan cooperation to bolster U.S. industrial policy and promote "near-shoring" to remain competitive against China
Potential for bipartisan deal on extending the child tax credit in exchange for a research-and-development tax-credit fix
REPUBLICANS WIN BOTH CHAMBERS
Increased spending on defense
Greater support for the legacy energy sector and oil and gas companies
Focus on passing "messaging bills" on GOP priorities such as tax cuts or border security that President Biden would probably veto, but which would help distill the Republican agenda ahead of 2024
Probably no chance of fiscal relief in the event of a recession
Passage of a Farm Bill reflecting Republican priorities, including potential cuts to the nutrition and conservation programs and more support for rural interests
More executive actions from the Biden White House, which will otherwise be hamstrung on advancing its agenda
More focus on investigations and oversight from a Republican House
More blocking of presidential Cabinet and judicial appointments from a Republican Senate
DEMOCRATS KEEP CONTROL OF BOTH CHAMBERS
More fiscal spending likely, though it would have to be paid for
Targeted fiscal relief in the event of a recession, potentially through expanded unemployment aid or similar measures
Renewed effort to pass scrapped pieces of the Build Back Better agenda through reconciliation, including extending the child tax credit or allocating money for eldercare
Potential revisiting of the tax code to raise revenue to pay for new spending, including steps to raise tax rates on wealthier households, increase capital gains taxes or push for the global minimum tax
Greater potential for more monetary aid to Ukraine
Potential push for stricter regulation surrounding cryptocurrency, Big Tech
Write to Megan Cassella at megan.cassella@dowjones.com