Peter Lane Taylor
May 18, 2020
If an economist were interested in a visual on what "pent up demand" actually looks like, America's beaches this Memorial Day weekend likely would do it.
After more than ten weeks on lockdown, America is slowly opening back up and travel restrictions are being eased at precisely the same time that the official beginning of summer is here, releasing tens of millions of people from a purgatorial spring.
Most states, cities, and local municipalities have been preparing for Memorial Day for months. With many "non-essential" businesses still shuttered, tax revenue anemic, and second homeowners and vacation rentals shut out or shut down in many cases, it's been one of the few bright spots on the calendar where vacation towns and merchants can see a turning point.
---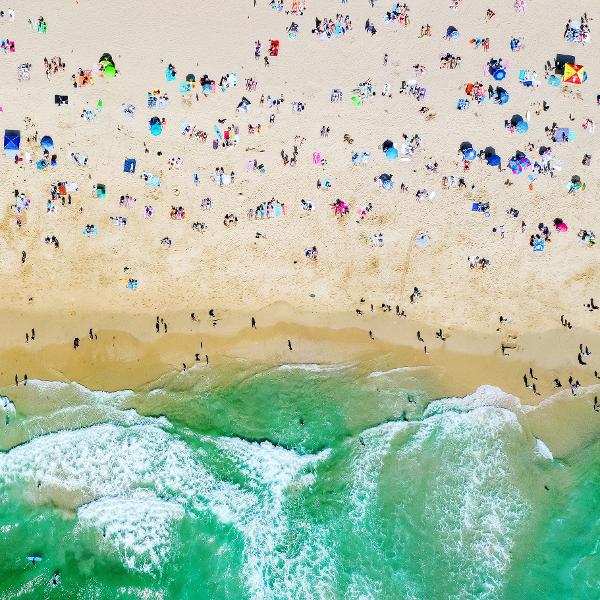 ---
For the rest of us who crave the waves and salt air, a similar catharsis is coming. Few things can capture the feeling of being free again and life returning to normal than a day at the beach. But it won't look like last year. And depending on where you live and where you're going over the holiday weekend, it could feel more like lockdown in the sand than what you were envisioning.
The good news is that America's beaches are (mostly) open. More sunshine means fewer virus particles in the air, and we all have the same pale, "stay-at-home" bodies after months in quarantine so there's no reason for self-shaming.
The downside is that activities will be limited, many beaches will have strict rules on social distancing, bars and restaurants still may only be able to offer take-out, and coronavirus is still circulating stealthily even on vacation so this is not the time for anyone to be less vigilant.
Here's your essential state-by-state beach guide for Memorial Day weekend as well as a few helpful tips to keep yourself and your family safe while enjoying every minute you have with your toes in the sand.
Parking. Good luck. To discourage visitors, most public and private beach parking lots have been shuttered for months and are just finally reopening. That's unlikely to change rapidly over the next two weeks, except for private lots that have permission from local authorities state by the state to re-open. Guidance: Pack light and be prepared to walk.
Bathrooms + Public Services. In most locations, public bathrooms and other services like water fountains, showers, and dog wash stations still will be shut down or have limited hours due to cleaning and sanitization requirements. Beach towel and umbrella service and watersports options? You can largely kiss those goodbye for now. Trash and recycling will still be available, but even if you're going to your state or city's most popular beach plan on if you were going to the most remote beach in Hawaii. Hauling in and out for Memorial Day weekend this year will most likely be all on you. Guidance: Assume self-sufficiency.
Restaurants + Bars. Most establishments regardless of what their states or local city councils have required are taking a "No mask, No service, No exceptions" approach still, specifically to protect their essential staff and chefs from out of towners or other visitors who don't feel obliged to maintain social distancing guidelines or basic common sense. If you aren't packing your own cooler, come prepared with face coverings and rubber gloves and show the locals you care as much about their safety as your own. Guidance: Support local restaurants when you can. If you can't pack three solid meals for the day.
Social Distancing. Out of principle, I've never wasted my time trying to find a postage stamp of space to put my towel on a crowded beach. It's antithetical to my entire conception of what going to the beach should be like. Fortunately, if you like space, almost all beaches in the U.S. that are open for Memorial Day are enforcing the CDC's social distancing guidelines that towels and beach chairs—and, more specifically, each family unit—must be spaced at least 6' apart from each other to reduce the potential spread of the virus.
Note to beach-goers: Many public health professionals and researchers still think that you should be wearing a face covering in public, even when you're rocking your Speedo or bikini in your own 6' of sand. The scientific data generally support this conservative approach. Guidance: Stick to 6' minimum and match your face mask to your Speedo if you can.
Activities. This is a widely moving target depending not only on your state's current re-opening plan but also on local authorities' specific guidance. On some beaches, "passive" activities remain prohibited so forget about sunbathing or reading a book in a beach chair. Others allow dogs (since they need wind and sunshine too), but jogging is prohibited since it's been demonstrated to accelerate the airborne spread of the coronavirus. In some places, surfing is encouraged since it's an inherently self-distancing activity. On other beaches, forget about it since it leads to crowds. Guidance: Research in advance what you can and can't do before you pack your footballs and boogie boards. Don't disappoint yourself or your kids.
Here's what America's beaches look like state by state for your upcoming Memorial Day holiday.
Alabama
All of Alabama's beaches are open as of May 30th, pursuant to Gov. Kay Ivey's reopening order announced on April 28 th . As a condition of reopening, gatherings of 10 people or more are prohibited, and beachgoers must maintain six feet of separation from each other or another gathering.
Governor Ivy's order also includes reopening all retail stores subject to a 50% occupancy rate limit in addition to social-distancing and sanitation rules, which means surf shops and tourist stores in places like Gulf Shores will be open (partially) for business.
Restaurants and bars are also open for dine-in service subject to strict state safety and sanitation guidelines. Take-out and delivery remain widely available. It sounds mostly like business as usual.
California
California is slightly more complicated, due to its size, geography, and population. In Southern California beaches are open subject to local guidance and restrictions on social distancing and gatherings. Most parking lots, piers and boardwalks remain closed, but conditions vary by city and by county. Surfers, divers, and swimmers in the water have free reign. Beachside restaurants and bars are re-opening on a case-by-case basis based on new guidance issued by Governor Gavin Newsom. Guidance: Call ahead. Find out what's open and what's not, and what you can and can't do in advance. Parking, like every other place in California, will be a nightmare.
This comprehensive and continually updated webpage from the LA Times provides details on every California beach and its current COVID-19 regulations and restrictions. Worth its weight in gold even though freeway traffic is at an all-time low.
Delaware
American's First State has been moving target on its beaches for weeks, frustrating many local businesses and second homeowners. Yesterday, however, Governor John Carney announced that restrictions to Delaware's beaches will be lifted at 5:00 pm next Friday, May 22nd just in time for Memorial Day weekend, ending weeks of uncertainty and one of the country's strictest out-of-state travel bans.
Strict social distancing and sanitary requirements accompany the beaches re-opening. 6 feet between people and gatherings is required at all times, face coverings are mandatory on the boardwalks, and restaurants and bars are still limited to delivery and take-out only. Children under 12-years-old must be accompanied by an adult.
Here's the catch: Beaches and public pools are open to state residents only. Out of state visitors will only be allowed if they've been quarantined 14 days.
You can find the most updated guide on what you can and can't do at Delaware's beaches online.
Florida
Florida, like California, is too large and diverse, especially with two coasts, to have a one mandate fits all approach work, which Governor Ron DeSantis seems to have understood from the start, giving wide authority to local cities and county commissioners to decide how to best manage their own beaches.
For Memorial Day weekend, that's resulted in a patchwork of confusion over which beaches are open, which aren't, and what's permitted in the first place.
Florida's biggest concern is out-of-town crowds, not locals. So many municipalities are restricting hours, curtailing parking, and banning specific activities in an attempt to keep Memorial Day traffic and crowds to a minimum while letting locals blow off some steam.
Guidance: Do your research in advance. Some beaches are open with few restrictions. A few are still closed outright. Still, others have limited hours for restricted "non-passive" activities, like walking or running, so know before you go.
Georgia
Georgia was America's first state to re-open two weeks ago to haircuts, tattoos, and massages, so it's beaches also will be open for visitors this Memorial Day weekend. Most beaches are open without restrictions, with the assumption that citizens will exercise common sense.
But despite Governor Brian Kemp's re-opening order, local municipalities still have the authority to impose their own restrictions on parking, social distancing, and which local businesses can open based on their own concerns over public safety and crowd control.
So call ahead before you pack your coolers and beach bags. But you can assume it's business as usual. And the crowds will be right behind you.
Louisiana
The Bayou State doesn't have a ton of beaches courtesy of the sprawling Mississippi Delta. But despite New Orleans still being a national hot spot, the Cajun Riviera is open for business this Memorial Day weekend.
Popular beaches like those at Grand Isle 100 miles south of New Orleans are open to residents as well as visitors, and short-term rentals are permitted again. Police on the beaches are monitoring appropriate social distancing requirements, and in some locations fishing piers and public parks and playgrounds remain closed. Most towns also have a nighttime curfew in place to minimize parties, fireworks, and gatherings over 20 people.
State-wide dine-in service is still prohibited at restaurants but current guidance allows for people to sit and eat in front of restaurants doing take-out without table service. Locals are already calling this Covid 'al fresco'.
Most of the Bayou State's casinos are also open, but under strict social distancing requirements, cleaning protocols, and hours of operation. They are still closed in New Orleans.
Maine
Maine is on a slow re-opening curve, permitting businesses and public spaces to get back to normal in more rural, less-populated parts of the state per Governor's most recent announcement on May 8th , including some retail stores and some restaurants on May 18th .
In Maine's more populous counties like Cumberland, York, Penobscot, and Androscoggin, where more than half its population and all of its beaches are located, it's a slower road. Retailers and restaurants aren't allowed to open statewide until June 1 after Memorial Day weekend.
Starting on Monday, May 18, however, most of Maine's beaches will be open for "active uses" like walking, running, surfing, paddling, and fishing. Maine's CDC social distancing protocols remain in place, including beach users remaining 6' apart. Non-resident visitors are still subject to the state's 14-day quarantine period, and group gatherings, loitering, and activities that prevent social distancing guidelines are not permitted.
Maryland
Maryland's state-wide stay-at-home order has not been lifted yet. But its beaches are open and outdoor activities like boating, fishing, and camping are back on the menu.
In Ocean City specifically, which is Maryland's most visited coastal tourist destination, the boardwalk, public parking lots, and beaches are open to the general public including out of state visitors as of Saturday, May 9 th subject to social distancing requirements, adhering to public health guidelines and limiting any gatherings to less than 10 people. Hotels and short-term rentals are also back in business.
Maryland's and restaurants remain closed except for take-out and delivery so pack and plan accordingly.
Massachusetts
Massachusetts Governor Charlie Baker introduced a four-phased plan to reopen the state that would begin as early as May 18. It's not moving fast enough for most people.
Limited use of golf courses is currently allowed, but the state's beaches are still largely on lockdown. Many remain closed based on local ordinances. Some are open for "transitory activities" like surfing, walking, running, swimming, or fishing. Those that are open for less transitory uses are requiring reservations. No ticket. No access.
Everyone in the state over the age of 2, resident or visitor, is still required to wear a face mask or covering in public both indoors and outdoors in situations where CDC social distancing requirements cannot be maintained. Restaurants and bars remain closed to anything but take out or delivery.
Michigan
Despite Michigan being in the news a lot recently for its highly restrictive stay-at-home requirements, its beaches on the Great Lakes ironically are open—subject to limited moving activities like walking, jogging, or other forms of exercise, and adherence to basic 6' social distancing requirements.
On April 30, Governor Whitmer ordered theaters, restaurants, bars, casinos, gyms and other places of accommodation to remain shuttered until May 28 so you may find it hard to find a place to stay this Memorial Day weekend, but there will still be space for you on the sand if you can get there. Restaurants remain limited to carry-out and delivery orders only.
Mississippi
The "Redneck Riviera" is open, along with parking lots and public bathrooms and showers. With the exception of recommendations for proper social distancing, Mississippi's beaches are as close to normal as possible. According to Governor Tate Reeves' re-opening order, restaurants can allow dine-in eating with limited seating, and outdoor gatherings of 20 people or more are prohibited, including in parks and on the beaches.
The state's casinos, most of which are congregated along the coast and particular around Biloxi, are allowed to open May 21 st , according to the Mississippi State Gaming Commission. Expect plexiglass shields at every sportsbook and cashier cage, table games, and slot machines spread 6' apart, hand sanitizers everywhere, and for a shut down between 3:00 am and 8:00 am for deep cleaning and disinfection.
Some entertainment venues, theaters, and high-density retailers remain closed, so when in doubt call ahead.
New Hampshire
As of two days ago, New Hampshire's beaches—all 12 miles of them—remain off-limits, despite growing resistance from residents. New Hampshire is the only state in America currently with blanket beach closures.
Some towns have petitioned Governor Chris Sununu to permit a phased re-opening, including enforcing strict social distancing guidelines, restricting parking to limit crowds, and closing off pedestrian malls and congregating areas to prevent crowds. Governor Sununu has yet to respond.
Restaurants, which are currently limited to takeout and delivery, will be allowed to offer outdoor dining starting May 18. But that still doesn't mean you can eat it on the beach.
New Jersey
Governor Phil Murphy announced Thursday that all of New Jersey's beaches will be allowed to re-open by Memorial Day—subject to strict state-imposed requirements above and beyond additional measures local mayors and municipalities elect to take. Masks and 6 ' social distancing are "strongly" encouraged.
Arcades and amusement rides will remain closed, as well as most public congregating areas adjacent to the beaches. Concerts, fireworks, and contact sports are prohibited. Restrooms, shower areas, and changing rooms, however, will be open to the public subject to regular closures for cleaning and sanitization, and restaurants will be allowed to serve food for delivery for curbside pickup.
Governor Murphy also recommended that beach towns tighten the number of daily beach access badges they sell to artificially keep crowd density down. So expect expensive badge prices or a crowded beach.
New York
New York's Governor Cuomo has been a familiar face on television lately. But his state is still largely locked down, especially in the southern regions where most of the beaches are located along Long Island.
Cuomo just announced today that all New York state beaches will be open for Memorial Day weekend, albeit with strict requirements on what you can and can't do. Under the plan, state and local beaches, as well as lakeshores, can open on Friday before Memorial Day weekend at no more than 50 percent capacity. No active sports will be allowed, picnic areas and playgrounds will be closed, and CDC 6' social distancing measures must be adhered to. Concession stands will also be closed and parking will be restricted.
Even in the Hamptons, all restaurants and bars remain closed except for take out service to if you want your sushi and Chardonnay you'll have to take them to go.
North Carolina
North Carolina Governor Roy Cooper recently released the state's re-opening plan which begins on May 8th.
When it comes to North Carolina's beaches, Cooper's Phase 1 permits the state's beaches to re-open as of May 22nd. But with specific restrictions. Guidance varies beach by beach but the general rule of thumb in most places like Wrightsville Beach is that only non-stationary activities are permitted i.e., no setting up chairs, umbrellas, and coolers, expect most public services like bathrooms to be closed, and visitors will be required to adhere to 6' CDC social distancing guidelines and the beach patrols and police will be watching. There are exceptions—some beaches are wide open with few restrictions—so check ahead depending on where you're going.
Retail businesses are allowed to open at 50% capacity under the requirement that customers stay at least 6' apart. Restaurants are still not open for dine-in service and all entertainment venues are closed so bring a picnic or prepare for take-out.
Oregon
Due to its rugged coastal topography, most of Oregon's beaches are officially State Parks, which also include miles of hiking and biking trails.
As of May 10th, however, none of the state's coastal parks have re-opened. Chris Havel, with Oregon State Parks and Recreation, told a local news outlet recently, "Travel as close to home as you possibly can. There is still a ban on nonessential travel, so we need you to keep that in mind and make good choices."
Guidance: Oregon's beaches are closed. Stay home and grill.
Rhode Island
Rhode Island Governor was the first in the country to restriction out of state travel and require people coming from New York and other hot spot locations to quarantine for 14-days. She's still not messing around.
Even though the state's stay-at-home order was also one of the first in New England to be lifted on May 9th, the state's beaches are still on lockdown, though plans are "underway" to allow people to enjoy the state's beaches this summer.
In the meantime,  if you're looking to hit Newport's beaches this Memorial Day weekend, 'fugetta bout it'.
"We'd like to open the beaches," Raimondo recently told reporters, "But not before Memorial Day."
South Carolina
South Carolina was one of America's first states to re-open and the state's beaches were top of the list, to both resuscitate tourism revenue and give locals an outlet to exercise and breathe in the fresh air after weeks of staying at home.
So as of today, most South Carolina beaches are open, including parking lots, public bathrooms boat ramps, and other facilities. Some beaches are limited to only those with beach passes. Myrtle Beach re-opened on May 4th. A few, like Burkes Beach, remain closed so if you're unsure call ahead.
Beachside restaurants are permitted to be open for dine-in service at 50% capacity and under stiff requirements for table spacing, cleaning, and sanitization. The Governor's re-opening comes with the caveat that proper 6' social distancing and adherence to public health guidelines must be practiced at all times indoors and outside.
Texas
Texas as its nature is taking a decentralized approach to re-opening.
Per Governor Abbott's orders, all beaches were permitted to re-open May 1st, but what you can and can't do and the hours of operations vary beach by beach and county by county. In Galveston, one of the states most popular vacation spots, tents, chairs, umbrellas or beach towels are a no-go, and activities on other beaches are restricted to walking, jogging, fishing, and surfing.
Texas restaurants and retailers were permitted to re-open as of May 1, although under CDC social distancing requirements and subject to local regulations that might supersede state guidance. Bars statewide remain closed.
Outdoor sports like golf and tennis are permitted with four or fewer people and as long as social distancing guidelines are being followed.
Virginia
On May 8th, Gov. Ralph Northam announced his 'Forward Virginia' plan for reopening the state in three phases.
As far as the beaches go, it's a mixed bag, but as a rule, they are closed to all activities except for fishing and exercise so forget the beach chairs and umbrellas at Virginia Beach, Chincoteague, or Assateague. Select public restrooms are open for limited hours and the fishing pier is open from 8:00 am to 8:00 pm. Proper social distancing is required and gatherings of all types are still limited to 10 people. Police will be watching.
Retail stores are allowed to operate at 50% capacity, while restaurants, bars, and breweries are still be limited to take out and delivery unless they have a permit for outdoor seating in which case they can serve outdoors at 50% capacity. Entertainment and amusement venues remain closed.
Washington
Gov. Jay Inslee announced on May 1 that the state's coronavirus stay-at-home order would remain in place through at least May 31 including a four-stage re-opening with a minimum of three weeks between each phase depending on the county.
As a result of that decree, all state beach parks, parks, and campgrounds along the coast and the Columbia River Gorge on the will be closed over Memorial Day weekend and will re-open under the second phase of the Governor's plan. Large gatherings will still be banned.
Fishing, however, is permitted throughout the state as of May 5th in state parks and other state lands for day trips only.
This article was written by Peter Lane Taylor from Forbes and was legally licensed by AdvisorStream through the NewsCred publisher network.
© 2023 Forbes Media LLC. All Rights Reserved
This Forbes article was legally licensed through AdvisorStream.