The annual rate of inflation dropped for the third straight month in September but food inflation soared to a 41-year high, according to data released Wednesday morning by Statistics Canada.
The Consumer Price Index — a broad basket of goods and services — was 6.9 per cent higher in September than it was a year ago. That's slightly lower than the 7 per cent annual inflation rate seen in August, and 7.6 per cent in July. In June, inflation had jumped to a 39-year high of 8.1 per cent.
---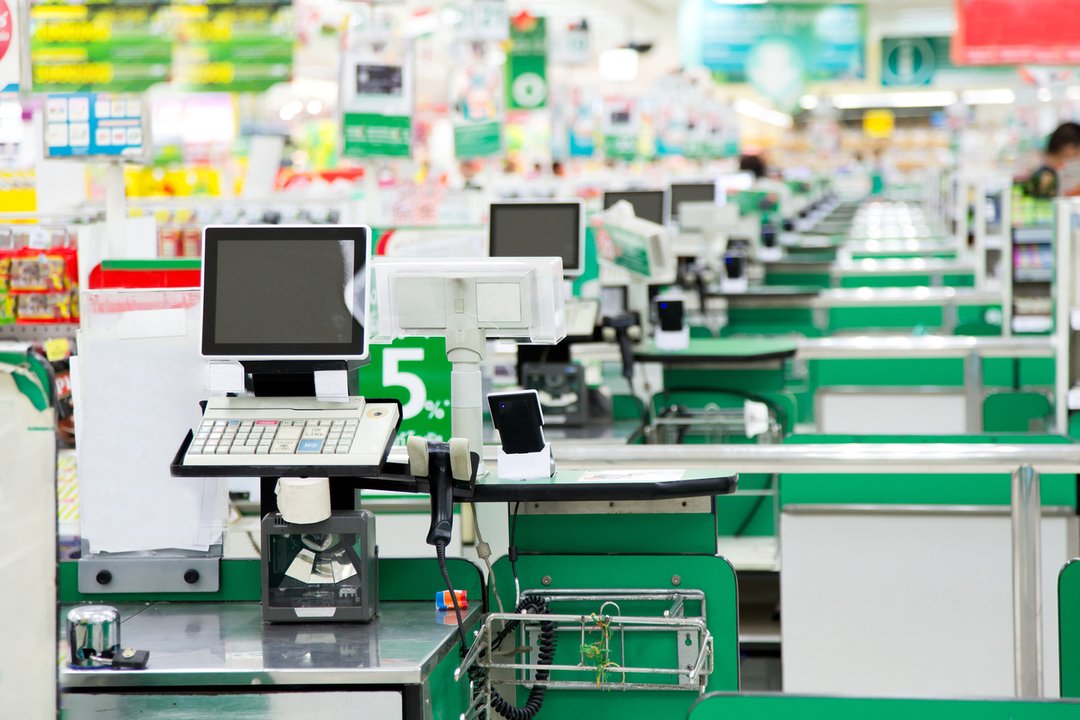 ---
Lower gasoline prices are the biggest reason the annual rate of inflation dropped in September. Month to month, gas prices fell 7.4 per cent in September, compared to August, the third straight month pump prices have fallen.
Grocery prices, however, kept on soaring, rising by 11.4 per cent. That's the highest rate of food inflation since August 1981.
"This is a dire situation," said Neil Hetherington, CEO of Toronto's Daily Bread Food Bank.
This year, monthly visits to Daily Bread have risen more than 50 per cent, to 186,103 from 120,000 in January, Hetherington said. And it's a different kind of visitor, too.
"We're seeing more and more working poor. It's the person sitting across the cubicle from you, not just the person sitting next to you on the subway," said Hetherington.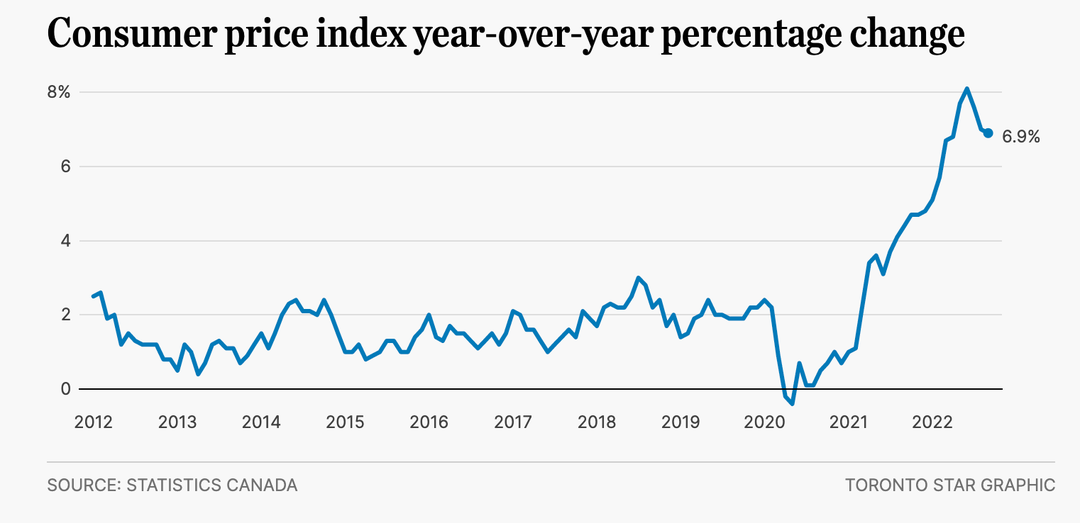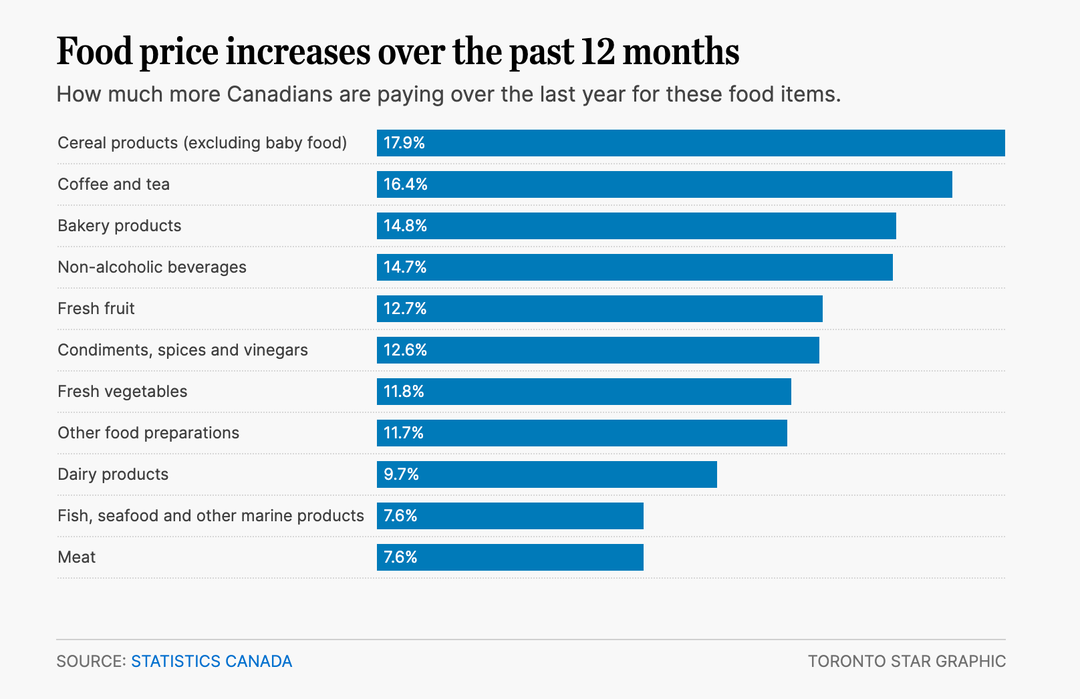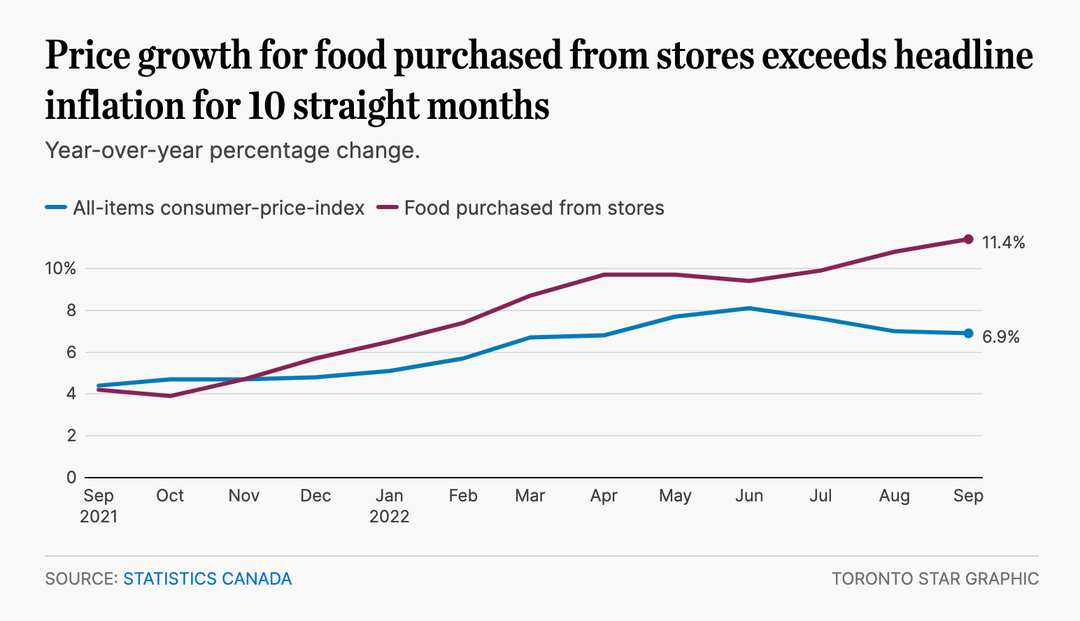 Grocery prices have now risen faster than "headline" CPI inflation for 10 straight months, something Statistics Canada attributed to the ongoing Russian invasion of Ukraine, bad weather, and increased prices for fertilizer and natural gas.
It wasn't just one or two items that bumped up the price of your groceries — it was pretty much everything in the basket. Bread prices rose 14.8 per cent, fresh vegetables rose 11.8 per cent, with dairy at 9.7 per cent and meat at 7.6 per cent.
And the food inflation doesn't appear to be cooling down any time soon, said David Macdonald, senior economist at the Canadian Centre for Policy Alternatives.
"There's no indication at all that this is slowing, even month to month," said Macdonald, who urged the federal government to have the Competition Bureau investigate the entire food industry.
"It's time for the federal government to step in. They need to get the Competition Bureau to investigate everything. Retailers, food processors, the agricultural sector. They need to look at all the choke points that are contributing to these increases," said Macdonald.
Earlier this week, the House of Commons unanimously passed an NDP motion censuring grocery retailers for "corporate greed" and calling for an investigation of food pricing, saying that "greedflation" was one of the causes of rising prices. The motion also called on the government to invite grocery CEOs to testify before the House's Standing Committee on Agriculture and Agri-Food.
A spokesperson for the Retail Council of Canada, whose members include large grocery chains such as Loblaws, Sobeys and Metro, said retailers aren't to blame.
"The reason that prices have risen sharply on grocery shelves is straightforward. Vendors, the manufacturers, processors and wholesalers of food have been raising prices repeatedly and almost across the board," said Michelle Wasylyshen. "Far from being excessive, Canadian grocers' profits continue to be in the band of 2 per cent to 4.5 per cent, as they have been for years, with the average being about 3 per cent."
Another factor that will prolong food inflation is that the loonie has been plunging against the U.S. dollar, said Tu Nguyen, an economist at RSM, an accounting and consulting firm.
"As colder weather approaches, more of Canada's food will come from south of the border at a time when the Canadian dollar weakens, keeping groceries prices up," Nguyen said in an emailed statement.
"Core" inflation, which strips out gasoline and food, hit 5.4 per cent in September.
In the U.K., inflation continues to skyrocket; on Wednesday, the U.K.'s Office of National Statistics announced inflation hit 10.1 per cent in September, a 40-year high.
Next week, the Bank of Canada is set to announce whether it will raise interest rates for the sixth time this year as it attempts to tame inflation.
In September, the Bank raised its key overnight lending rate by three quarters of a percentage point, to 3.25 per cent, and said more hikes would be coming.