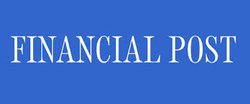 Kevin Carmichael
Oct. 7, 2022
Canadian employment was little changed in September from the previous month, and the unemployment rate dropped to 5.2 per cent, albeit because fewer people told Statistics Canada they were looking for work, decreasing the size of the active workforce. Here's what you need to know:
Canadian employers added about 21,000 workers in September, Statistics Canada reported on Oct. 8, too few to stand as a statistically significant change from the previous month.
---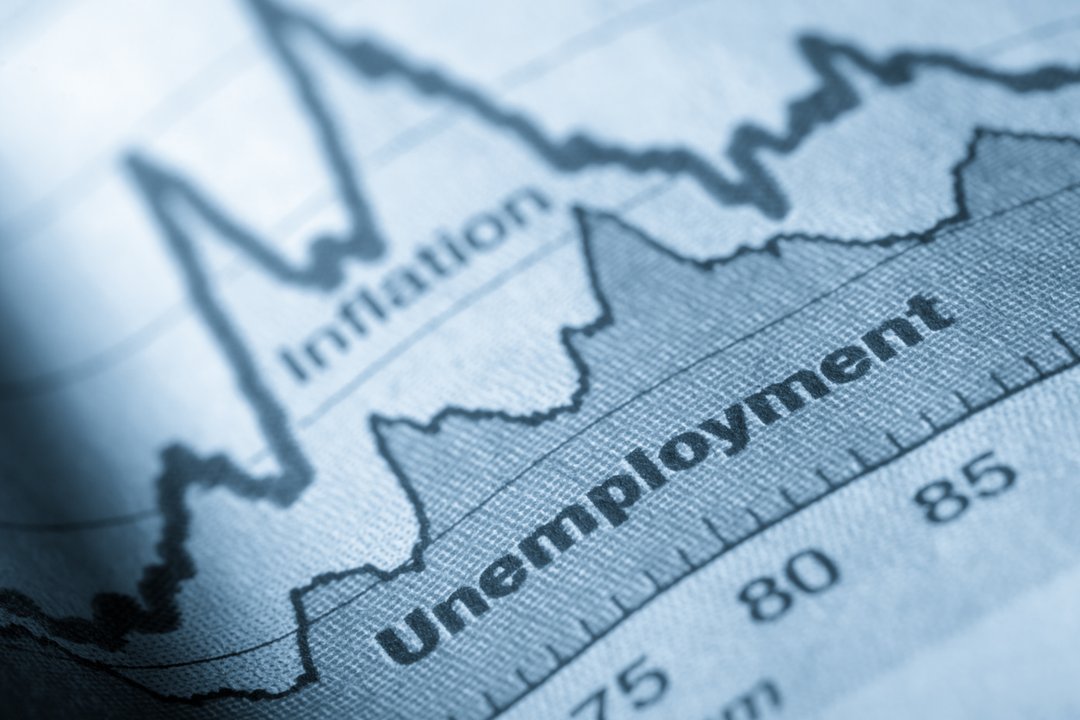 ---
The unemployment rate, which spiked to 5.4 per cent in August, dropped back to 5.2 per cent last month. The improvement, however, wasn't the result of a resurgence in hiring; Statistics Canada said the labour force decreased by about 20,000 people, as fewer respondents to the monthly Labour Force Survey said they were actively looking for work.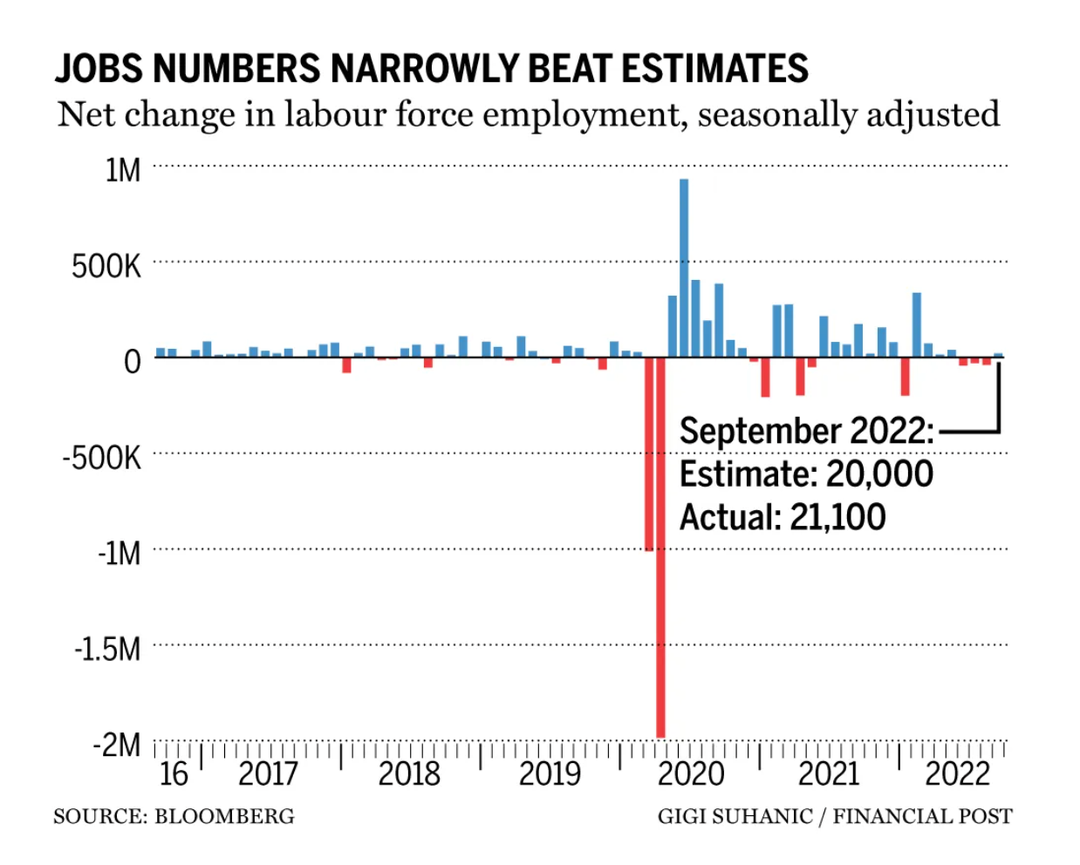 Perhaps the most important number in Statistics Canada's monthly hiring roundups these days is wages. The agency said the average hourly wage increased 5.2 per cent from September 2021, the fourth consecutive month wages have increased by more than five per cent from a year earlier. That's fast by historical standards, but not fast enough to match inflation, which is currently hovering around seven per cent.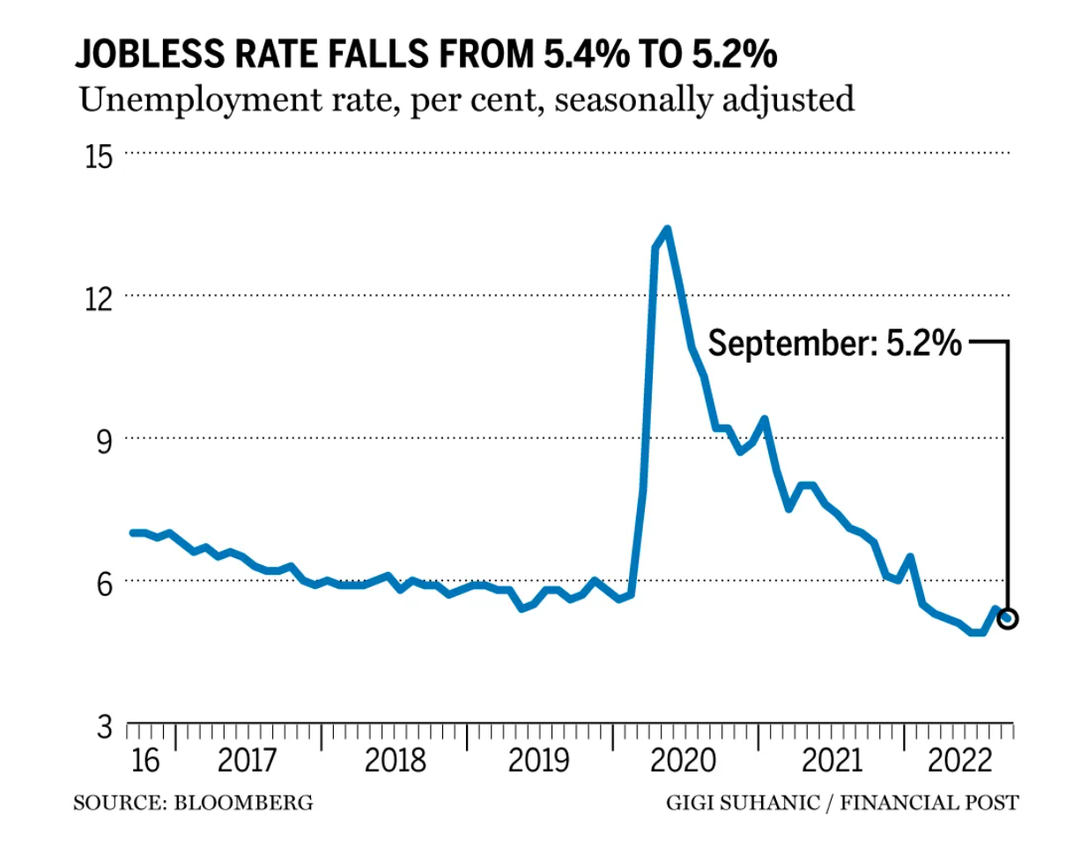 The backdrop
Bank of Canada governor Tiff Macklem was crystal clear about how he sees economic conditions this week: still too hot.
"All the signs today point to an economy that is clearly in excess demand," Macklem told the Halifax Chamber of Commerce on Oct. 6. "Labour markets remain very tight. Job vacancies have eased a little in recent months, but remain exceptionally high. Our business surveys report widespread labour shortages. And wage growth has risen and continues to broaden."
The central bank, which has already raised its benchmark interest rate three percentage points since March, isn't finished. The policy rate, currently at 3.25 per cent, is probably headed to four per cent or higher.
Bottom line
The latest hiring data suggests the economy is cooling. Total hours worked, an important indicator of economic output, decreased 0.6 per cent from August, although they remained about two-per-cent higher than a year earlier. Still, some of the "excess demand" that so worries Macklem is probably starting to seep into the ether.
Still, year-over-year wage increases of five per cent will only strengthen the Bank of Canada's contention that conditions remain too hot. Central bankers believe there is a tight correlation between wage increases and inflation, and containing price increases is the Bank of Canada's paramount mission.
Macklem's observation that upward wage pressures are starting to "broaden" was probably important. Statistics Canada tracks sixteen broad industry groups; eleven of them posted year-over-year wage increases of more than three per cent in September, compared with nine in May and seven in January.
Canada's labour market is about as tight as it's ever been. Expect the Bank of Canada to try to loosen it.