By Tracy Alloway and Joe Weisenthal
Oct. 4, 2022
"Ch-ch-ch-changes! Turn and face the strange," the iconic David Bowie once crooned.
Investors surveying the market in 2022 might relate. As central banks ramped up their policy tightening efforts around the world, a number of historic relationships and previously winning trades have been turned on their head. That's making for tricky risk management for big financial institutions like asset managers and investment banks who have been used to years of low interest rates and sluggish volatility.
---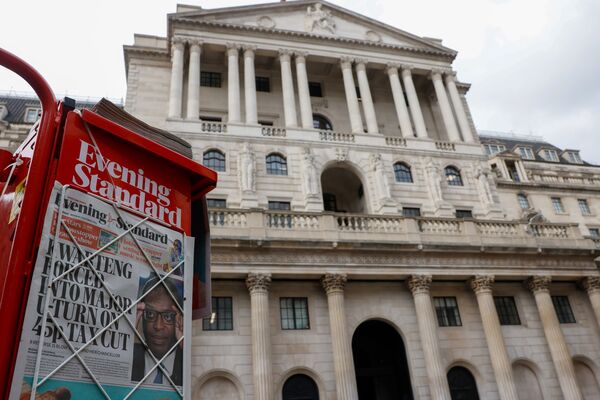 ---
It's a sharp change from the years after the 2008 financial crisis, when low interest rates dominated and sent investors scrambling for returns. Betting against volatility and taking on so-called duration risk, or interest rate exposure, proliferated and saw a resurgence in popularity after central banks stepped in to help prop up the market in the aftermath of the Covid-19 pandemic.
Now bond yields have been soaring, with the yield on 20-year UK gilts, for instance, jumping to the highest in decades at 4.94% last week before crashing back down to Earth, and risk assets are slumping as worries over a global recession increase. While investors this week may be hoping for a pivot from the Federal Reserve to spare them more pain, the turmoil of this year may have lasting consequences on risk-taking behavior.
"All risk models pretty much are fed with historical data of some description and this is now in the history," says Toby Nangle, the former head of asset management at Columbia Threadneedle Investments in an upcoming episode of the Odd Lots podcast. "And it's going to inform decisions, whether people think about that consciously or whether it's just, you know, underneath."
To understand just how much things have changed, look no further than the Fed's stress tests of commercial banks conducted earlier this year, says Nicholas Colas, co-founder of DataTrek Research.
The central bank was forecasting a 'severely adverse scenario' that involved yields on 10-year Treasuries climbing to 1.5% after two years. Yields on the benchmark US government debt are already at 3.6%.
It's a similar story for credit, where BBB rated corporate bonds have been yielding around 6% and the Fed's stress test has them peaking at 6.6%. Rates on a 30-year mortgages currently sit at more than 7% according to Bankrate.com, but the 2022 stress test has them going up to a mere 3.8%.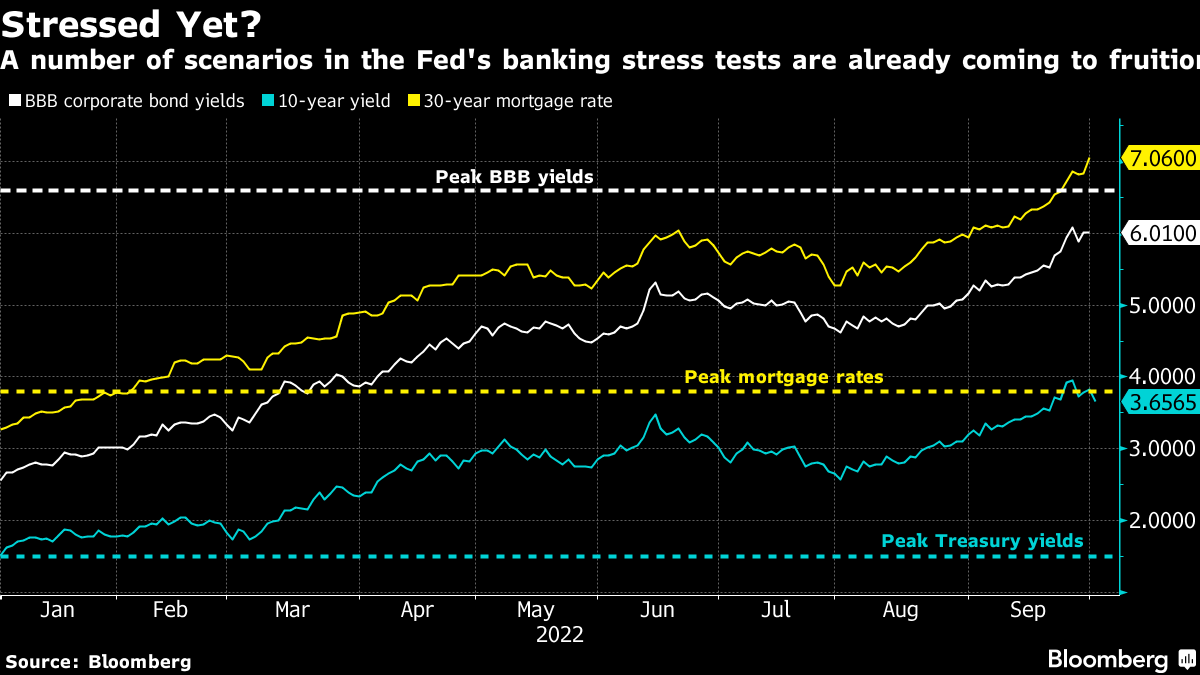 "The Fed's 2022 stress tests modeled a deflationary recession, but markets are more concerned now about a sharp downturn against an inflationary backdrop," Colas says. "Stress tests are designed to reassure markets that the financial system is sufficiently well capitalized to withstand an economic shock. While US banks publish their capital ratios on a quarterly basis (and they've all been fine to date), it would be helpful if the Fed's stress test more closely mirrored the current environment and its novel risks."
The experience of 2022 may weigh on big investors for some time to come, Nangle argues. That could mean lower risk appetite for years as banks and asset managers factor in higher levels of volatility and uncertainty into their collective portfolios.
"You'll need to make your portfolio survive that stress test from now on," he says. "Your portfolio might look a little bit riskier than it did simply because that historical data is feeding it. And so if you've got a risk budget that you're working to, you might need to take a little bit less portfolio risk."
To see what's changed, take a look at the charts below.
Viva la volatility
The ICE BofA MOVE Index of Treasury volatility has been jumping to levels not since since the darkest days of 2020 and the global financial crisis. These bonds form the backbone of portfolios and regulatory requirements around bank capital and are supposed to be relatively safe and stable.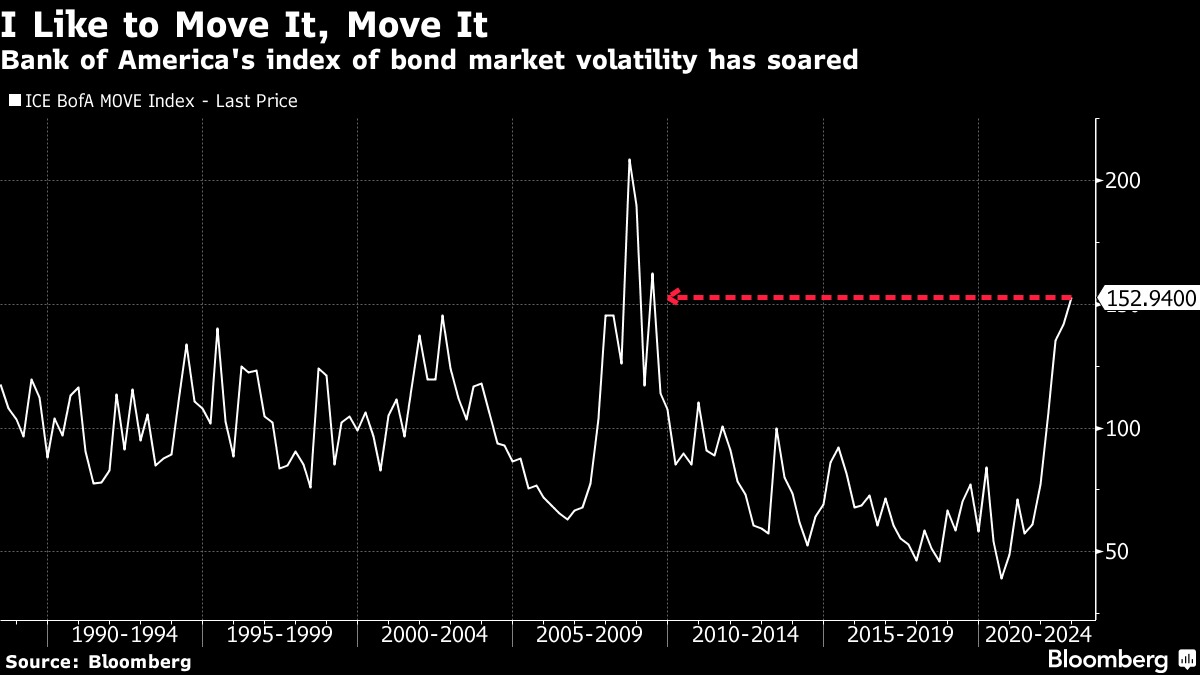 Death of Duration
Exchange-traded funds comprising longer-term US Treasury bonds have tumbled this year after many obligations soared to all-time highs in 2020, in a sign of the pain caused by rising interest rates. You can also see the hit in individual bonds, such as Austria's (in)famous 100-year debt. Prices on the security have more than halved since the century bonds were sold back in 2020.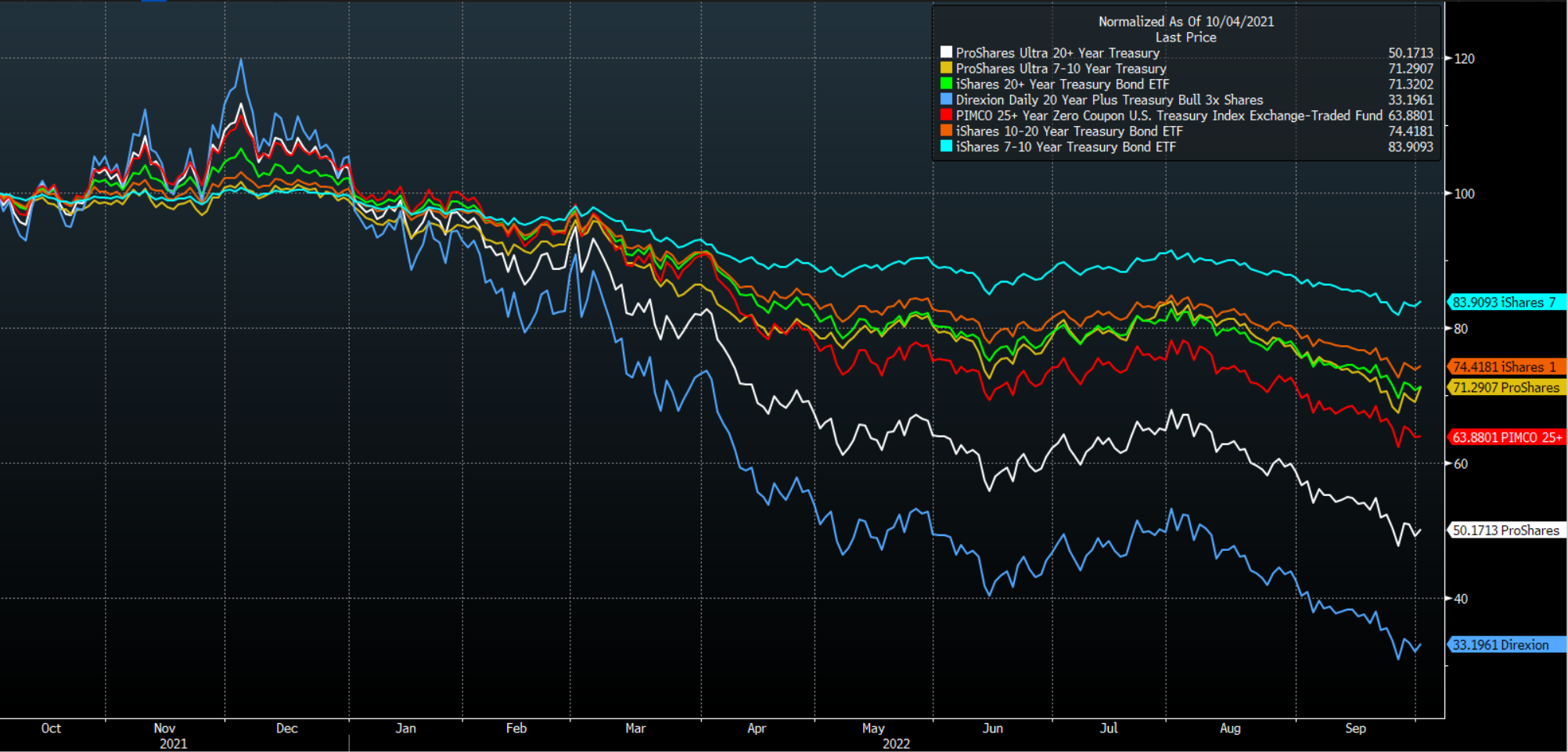 Good news is no longer good news
A once stable relationship between labor market strength and the stock market has been turned on its head. For years, good news on the jobs front was good news for risk assets. But that correlation has been blown up in a big way in 2022, as inflation — and not growth — became the primary risk seen by the Fed. A steady improvement in initial jobless claims has been met by a tumbling stock market.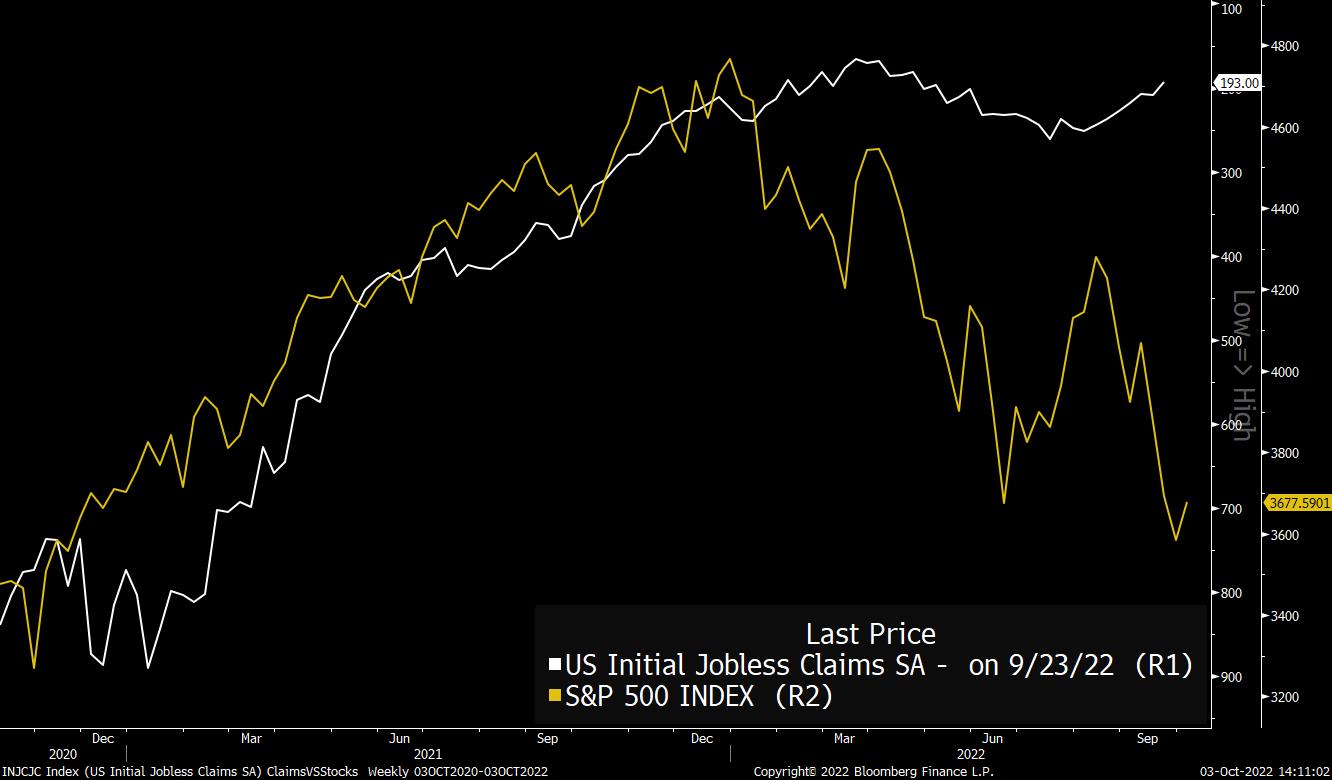 Dollar destruction
Of course, one of the biggest changes this year has to do with relentless dollar strength as the Fed hikes rates, with the greenback up against every G10 currency this year and many emerging market currencies too. Depending on your preferred metaphor, the US currency is either a wrecking ball trampling through the global economy or a milkshake sucking out global liquidity. 

Commodities cornered
One reason the current environment has been painful for many investors is limited options for hedging. While being long commodities was a great trade earlier in the year, many of them have since fallen out of favor as concerns over a looming global recession grow.
The price of oil has dropped from more than $123 a barrel to around $90 now following releases from the US's Strategic Petroleum Reserve (SPR). That's helped to blow up the normal inversely correlated relationship between the US dollar and oil in a way that we haven't seen since the spring of 2020.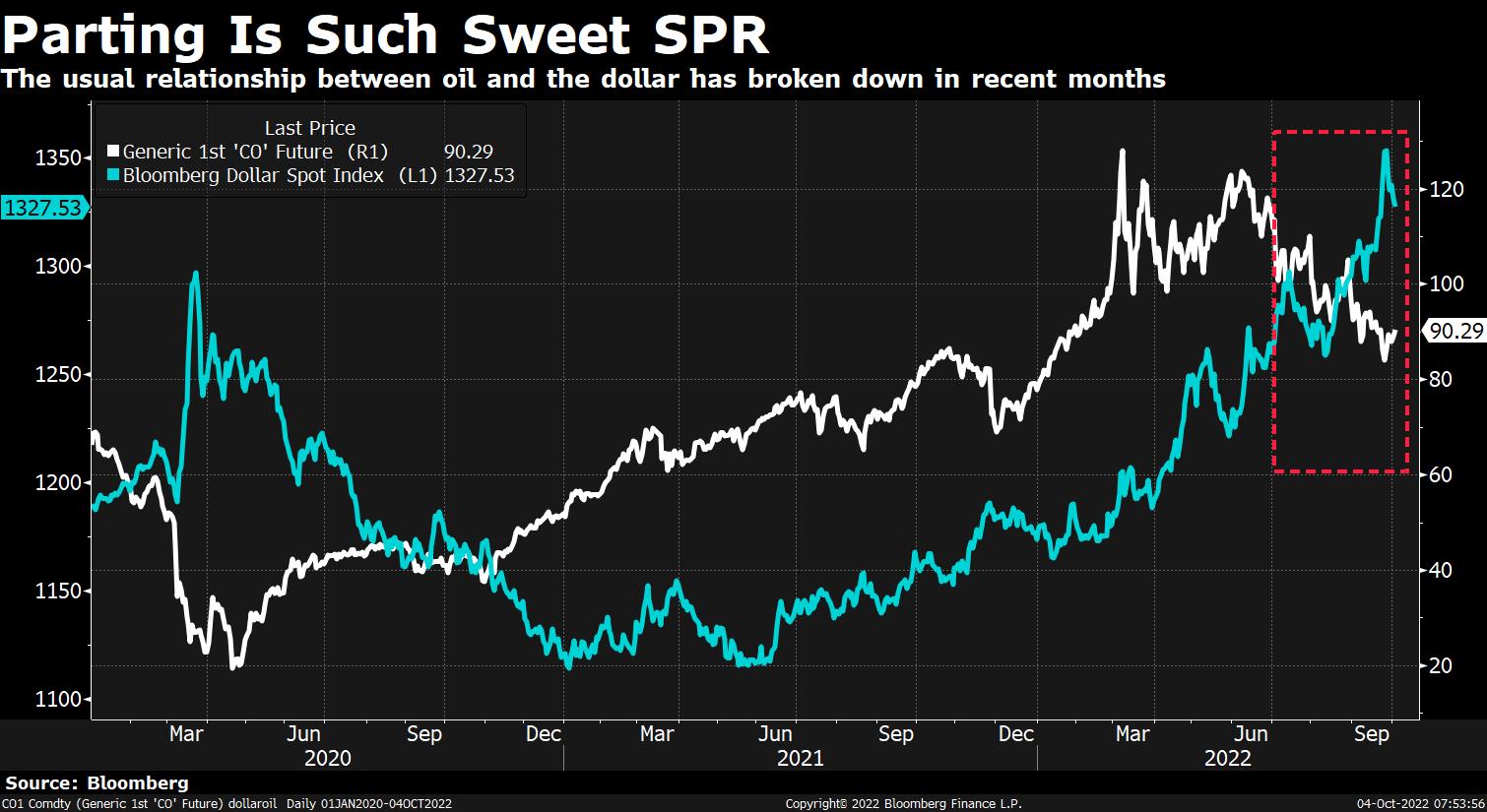 Blowing off the froth
While Michael Burry, the investor of Big Short fame, has argued that all the silliness in markets that have been distorted by years of risk-free behavior need to go, there are a number of assets that show some of the froth is getting blown away. Take, for instance, $1 billion worth of junk bonds sold by payday lender Curo Group Holdings Corp. last year. Prices on the debt have dropped precipitously, while yields have soared from 10% earlier this year to almost 24%.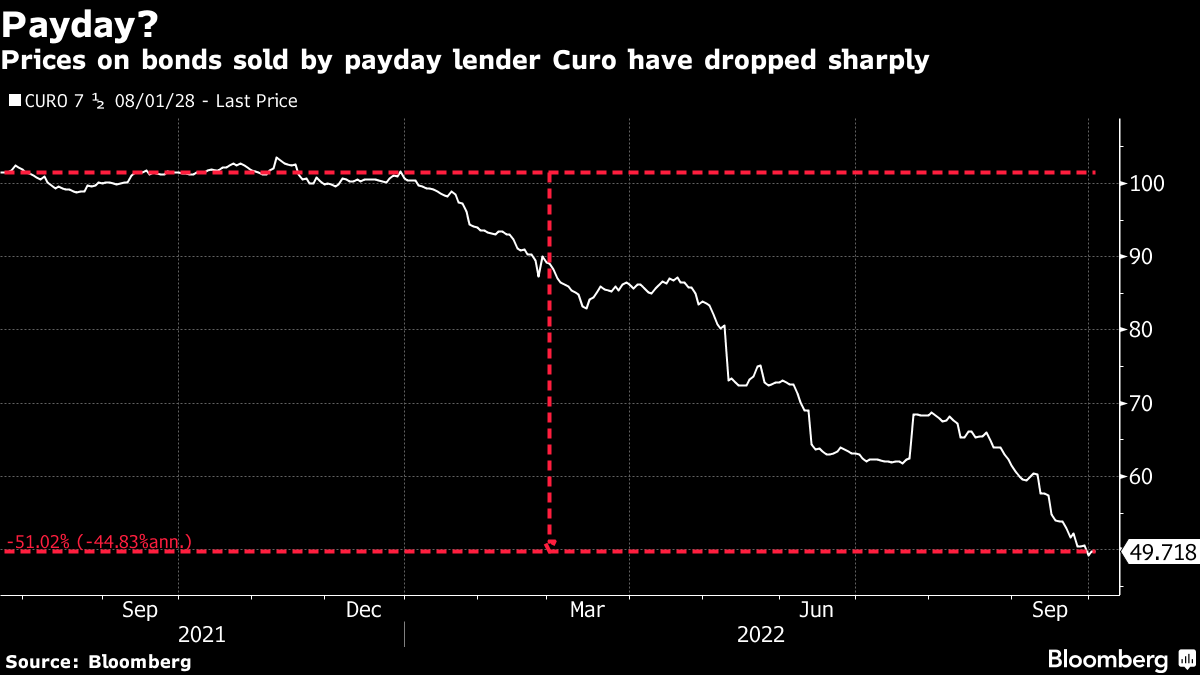 Role reversals
Big tech stocks have benefited from years of low interest rates, but that changed for many of them in 2022. Meta Platforms Inc., the company formerly known as Facebook, has been overtaken by ExxonMobil Corp. in terms of market value.
It isn't the only example of the 'triumph of the real' as Chinese internet giant Tencent Holdings Ltd. has also ceded the title of the country's biggest company to liquor maker Kweichow Moutai Co. following a broad crackdown on the tech industry.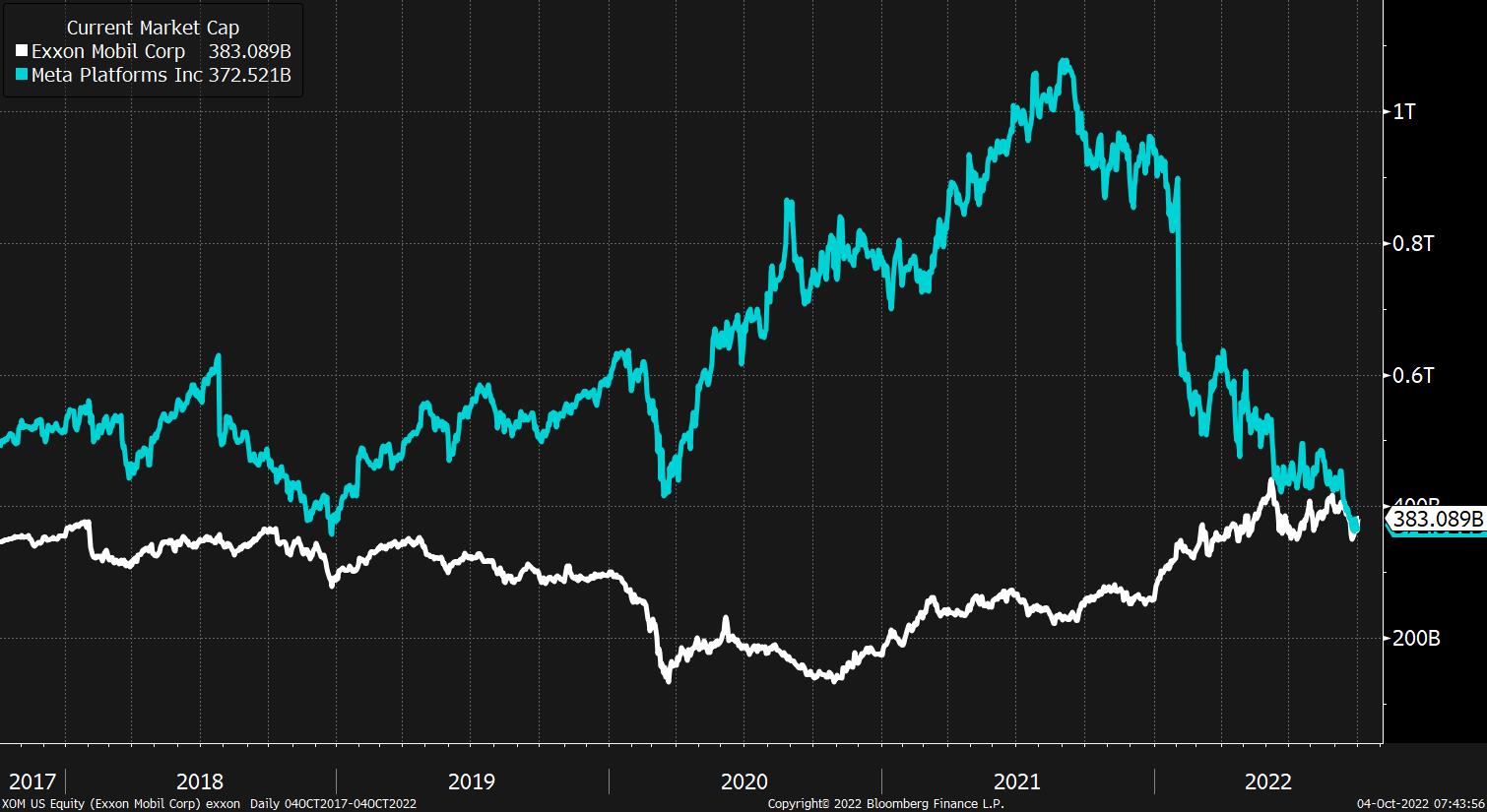 © 2022 Bloomberg L.P.