By Veronica Dagher
Sept. 13, 2022
Food prices are up. So are disputes about what goes in the shopping cart.
---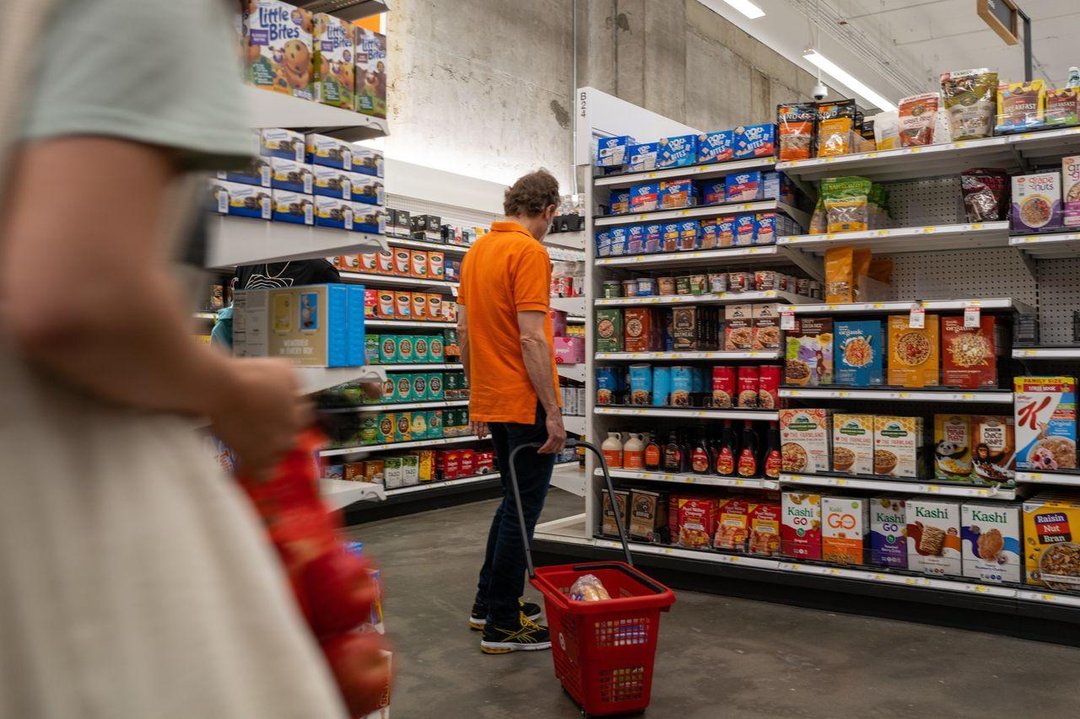 ---
"If I buy more of my milk before the one in the fridge is empty, there's going to be hell to pay," said Leibel Sternbach, a financial adviser.
His wife, Sammi Sternbach, checks the refrigerator when he returns from the weekly food shopping and tells him about every item he shouldn't have bought, Mr. Sternbach said.
The couple from Plainview, N.Y., both 35 years old, spend on average about $350 a week buying groceries, up from about $220 a year ago. Mr. Sternbach said they are skipping precut vegetables and oven-ready meals to save money, but their monthly bill remains higher than they would like.
The consumer-price index was up 8.3% year-over-year in August, the Labor Department reported Tuesday, and the Sternbachs have been making sacrifices to cope.
For Mr. Sternbach, that means less babka, a favorite sweet bread. (He admitted to sneaking the occasional bag of jalapeño potato chips into the house.)
Ms. Sternbach, a midwife, has given up Kit Kat candy. (She does stash a few Dove chocolates deep in the pantry. "You still have to live," she said.)
Sticker shock over basics from eggs to chicken to biscuits has ignited similar debate in other households. Arne Boudewyn, head of family wealth and culture services at Wells Fargo, recommends that couples set aside time once a month to go over household expenses, including food. "You don't want to have these conversations in the grocery store aisle," he said.
Ruth Abolofia, 39, is home raising three children younger than 10 in Waltham, Mass. She is determined to have fresh produce for her family, one of the pressures on the household grocery budget, which has swelled past $1,000 a month from less than $900 a year ago.
Her husband, Jay Abolofia, 37, grumbled when Ms. Abolofia bought six $3 pints of blueberries. "Then he ate some," she said.
A few debates over monthly grocery tabs that stretched into the four figures ended in a stalemate. Inflation has left them little room for cutbacks, so the couple instead agreed to raise their food-budget ceiling.
To make up the difference, the Abolofias have cut back on the number of times they dine out.
"We're trying to take a more collaborative approach," Mr. Abolofia said.
Dan Wykoff, 42, questions how sugary baked goods make their way into the family's pantry under the guise of breakfast food. His wife, Kristin Wykoff, 43, said she reminds him that their four children, the oldest is 16, have favorites and to indulge them the occasional treat, even if it costs more now.
The family of six in Lookout Mountain, Ga., spend about $750 a month on groceries, compared with $650 or so a year ago. Appetites are growing as fast as their children, the parents said. Several of the kids eat a second breakfast.
"They often seem more like hobbits than humans," said Mr. Wykoff, chief financial officer of a technology company. His wife asked him to rein in what he called his "pseudo-addiction" to Coca-Cola Zero Sugar. Instead of buying a 12-pack of the soft drinks for about $6.49 a week, he buys one every other week. "I'll survive," Mr. Wykoff said.
Scott Sturgeon frets every time his wife, Jenny Sturgeon, a nurse practitioner, pays $10 for 4 ounces of pine nuts. "Don't get me wrong, a dash of pine nuts can really elevate a salad.
But $2.50 for an ounce of tree nuts starts to get a little ridiculous," said Mr. Sturgeon, 34, a financial planner in Prairie Village, Kan. The grocery bill for the family of three is about $767 a month, up 20% from a year ago, he said.
The couple struck a compromise. Ms. Sturgeon, 31, agreed to buy pine nuts only about once a month. "I don't like to eat bland meals," she said.
The Sturgeons also decided to do most of their grocery shopping at Aldi, a discount supermarket chain, which they estimate saves them about $100 a month.
Mr. Sturgeon said he has all but stopped buying cans of his favorite cold brew, which costs from $5 to $6 a can.
Yet he allows himself some wiggle room. If Mr. Sturgeon plans yard work on a Saturday morning, he said, he will throw a can in the shopping cart.
His wife sometimes surprises him with a can, too.
"We love each other very much, and a higher grocery bill isn't going to change that," he said.
Write to Veronica Dagher at veronica.dagher@wsj.com