By Michael Adams, Editor
Feb. 10, 2023
Wellness is a concept that has found its way into more and more corners of American life. At its heart, wellness is about adopting practices—like exercising more and eating healthy—that help you live a better life.
These practices can also help you improve your financial life, under the rubric of "financial wellness." This concept is about changing financial behaviors and adopting more effective money habits to secure financial stability and financial freedom.
---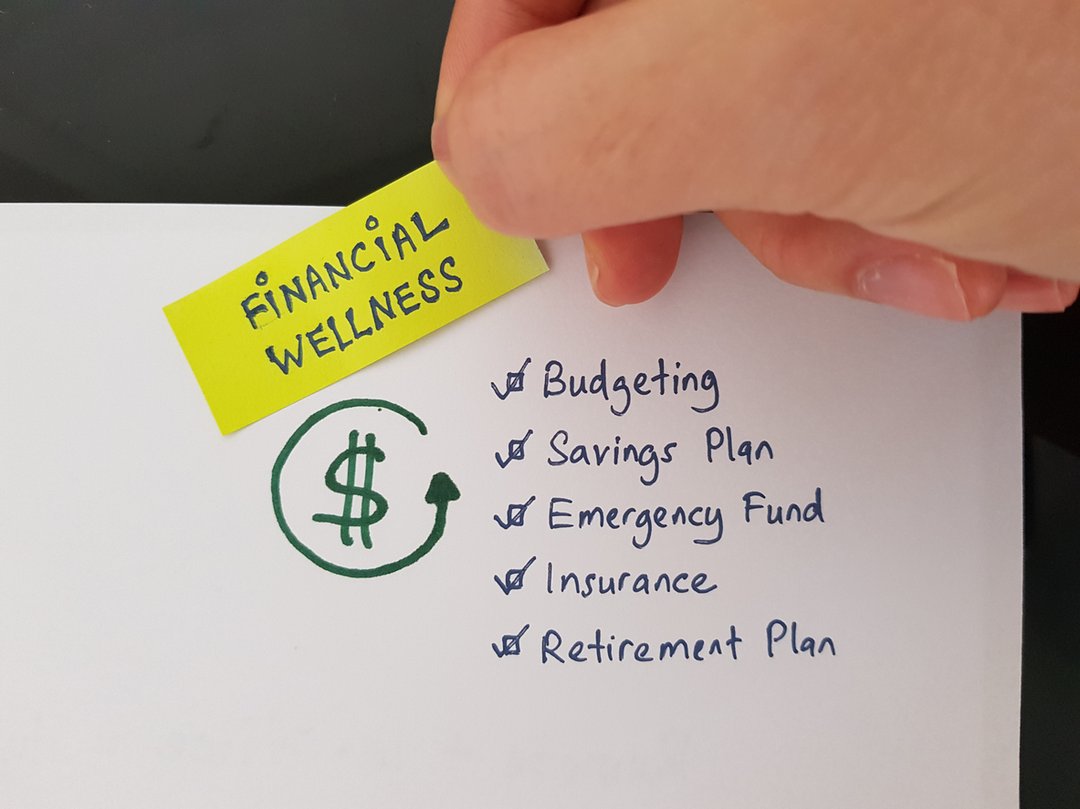 ---
What Is Financial Wellness?
Financial wellness is a relative measure of how well a person manages their financial life. Improving financial wellness is about practicing better money habits, setting goals and taking steps to achieve them—all with the aim of improving your overall quality of life.
"Financial wellness is the ability of people to lead a successful financial life," says Drew Pratt, a chartered financial analyst (CFA) and vice president of investment advice at Rebalance.
According to Adam Scherer, a certified financial planner (CFP) and president at Greenbeat Financial, practicing financial wellness impacts many of your day-to-day activities. But it also covers big, long-term projects like retirement.
"It's like what psychologists point to as the hierarchy of needs," says Scherer. "There's also a hierarchy of financial needs."
From good budgeting practices and saving for the future, to estate planning and retirement planning, financial wellness involves understanding your needs and making plans.
"These sorts of core goals are necessary for a comprehensive financial planning strategy," says Scherer.
The Four Elements of Financial Wellness
There are plenty of different ways to think about financial wellness, but here we'll approach the subject using four categories: short-term finances, long-term finances, present financial freedom and future financial freedom.
1.  Managing short-term finances
This involves making a budget, sticking to it and working to gradually increase your income.
"Everybody should have a budget and really understand the fundamentals of their own household income statement and try to live within their means," says Pratt.
Speaking with a financial professional is a great way to get your short-term finances on the right track.
2.  Managing long-term finances
Part of managing your short-term finances is ensuring that you make room to save and invest for long-term goals. Improving your financial wellness today helps get you on track for goals like buying a home and building a nest egg for retirement.
According to Michael Liersch, head of advice and planning at Wells Fargo Wealth & Investment Management, encourages clients to meet with a trusted collaborator—a financial advisor, their spouse or child—and honestly review their assets and liabilities as part of the process of managing their long-term finances.
3.  Improving present financial freedom
The goal of gaining control over short-term finances is to give the individual present financial freedom. Again, this can be accomplished with financial literacy, but the wellness aspect means you need to feel like your finances are under your control as well.
"It's about you seeing the numbers next to your habits and making adjustments so that your goals and how you define financial well-being are represented in the things you're spending on," says Scherer.
4.  Achieving future financial freedom
This means you are following through on plans to accomplish your long-term financial goals. Retirement planning is a key part of achieving future financial freedom.
"There are some tried and true ways to make money and achieve financial wellness. To put it simply, the path is created by habitual, multi-year commitments," says Liersch.
Financial Wellness vs. Financial Literacy
Financial literacy is closely related to financial wellness. One idea informs that other, but ultimately they are not synonyms.
If financial wellness is a matter of taking steps to improve your financial life, financial literacy is about understanding the concepts and tools you can use to manage your money.
"Financial literacy is more of the basic facts about what different types of investments are and how they work," says Scherer.
Financial literacy deals with understanding skills like saving, investing, budgeting and taxes. If you haven't acquired these skills, start by studying and researching personal finance concepts.
According to Scherer, acquiring the basic skills of financial literacy is an important part of financial wellness. "But one difference is that financial wellness also covers the bigger piece of emotions," he says.
Financial wellness is a more holistic approach than simply being financially literate. It encompasses more than an individual's financial knowledge. It involves all of an individual's feelings with regard to money.
How to Practice Financial Wellness
Practicing financial wellness means learning how to build a budget, use debt, save enough, invest properly and use insurance. It means incorporating these skills in your day-to-day life so you can meet their present and future goals.
"At a certain point the quality of people's lives does not improve with extra earnings," says Scherer. "Ask yourself, are you living your values in your finances?"
Employing the skills of financial literacy isn't a question of simply going by the book. Rather, the goal is to know how you want to implement these principles to provide yourself and your family with the life you want to live.
For example, budgeting is a financial skill. However, budgeting to help you feel in control of your current and future finances is a step toward financial wellness.
Similarly, debt is an instrument that every financially literate person should know how to employ, but when it comes to reaching your personal goals by using debt such as mortgages and car loans, you're on the way to financial wellness.
The same goes for saving and investing. To know how to save and invest is financially literate. To save and invest for your own emotional well-being is a component of financial wellness.
How to Improve Your Financial Wellness
There are several ways an individual can improve their financial wellness, but the first step is to improve one's financial literacy. From this vantage, the individual can learn how to better incorporate the principles of financial literacy to achieve their own, personal goals.
"While many have a tendency to view their situations through 'narrow framing,' people that have reached financial wellbeing—specifically, feel confident about their retirement plan—tend to have their 'long-game hat on," says Liesch.
With this in mind, the points at which an individual should focus to help them achieve financial wellness are:
Creating a budget.
Building an emergency fund.
Protecting their assets.
Reducing or eliminating debt.
Saving and investing.
Planning for retirement and other long-term goals.
There are many paths for improving financial wellness. Some may choose to speak with a financial advisor. Others may find the answers in books and articles. Some may even seek additional outside help.
Scherer says, "I think that for people who have really deeply seated negative thoughts or challenges around money, seeing someone to discuss that—like a psychologist or LCSW—can really help."
Regardless of how financial wellness is achieved, it almost inevitably requires looking at the present with a view toward the future.
© 2023 Forbes Media LLC. All Rights Reserved
This Forbes article was legally licensed through AdvisorStream.