By Avi Salzman
Nov. 9, 2020
Democrat Joe Biden was elected president Saturday morning, beating President Donald Trump in Pennsylvania to secure a projected victory in the electoral college, according to the Associated Press and other news outlets. Nevada was called shortly after, bringing his electoral vote count to 290.
Georgia and North Carolina are still too close to call, according to AP. Biden pulled ahead slightly in Georgia Friday morning; Trump was leading in North Carolina. Arizona was called for Biden by AP and Fox News, but other news outlets say it too is too close to call. Even without Arizona, Biden has 279 electoral votes; 270 provides a win.
---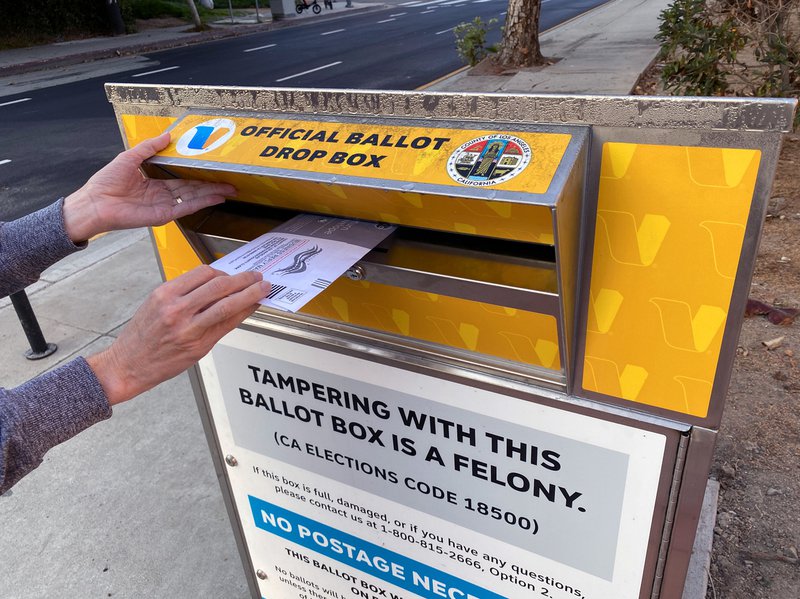 ---
Celebrations broke out in New York, Washington, Los Angeles, Philadelphia, and other cities, even as pro-Trump protests were planned in other places.
Biden, 77, spoke to supporters at an outdoor drive-in rally in Wilmington, Del., on Saturday night. "The people of this nation have spoken; they delivered us a clear victory," he said, as the crowd cheered and honked horns.
"It's time to put away the harsh rhetoric, lower the temperature, see each other again, listen to each other again," he added.
Biden said he would be appointing a panel of scientists on Monday to advise him on strategies to combat the Covid-19 pandemic. The U.S. hit a daily record for new Covid cases last week, with more than 120,000.
Biden's vote total—more than 74.8 million with more to be counted—is the most ever received by a presidential candidate. Trump had received 70.6 million votes. Turnout in the race was the highest in 120 years. Biden's running mate, Senator Kamala Harris, will be the first woman vice president.
President Trump, 74, did not concede the election. He issued a statement Saturday morning saying, "The simple fact is this election is far from over," and repeated his unsubstantiated accusations of fraud. His campaign is calling for a recount in Wisconsin and has initiated legal challenges in other states. He has 214 electoral votes.
The legal strategy is showing mixed results. He's tried suing for more access to ballot-counting locations for his representatives; it's unclear how that might affect the result of the election. He tried to stop the counting of absentee ballots in Georgia and Michigan; both efforts were denied. Two of his successful attempts were in Pennsylvania: An appeals court ordered election officials in Philadelphia to allow campaign observers to get close enough to see the writing on the ballots, so long as they adhered to Covid-related protocols. Another judge ordered certain mail-in ballots to be set aside; these were from first-time voters who were permitted to provide proof of identification if they had previously neglected to do so.
"Barring some evidence of systemic failure in the count in a state that is crucial for the electoral college vote, the vote count as it ends is likely to reflect the final electoral college results," Rick Hasen, an election law expert at UC Irvine, wrote on Thursday.
The market appeared to be reacting to a likely Biden win and Republican Senate last week, market strategists said. The S&P 500 rose 2.2% on Wednesday, its best-ever result for the day after an election, driven by impressive gains for technology stocks. It rose another 2% on Thursday, and ended the week with its best election-week gain since 1932. Biden said he'd raise corporate rates to 28% from 21%; that's unlikely with a Republican Senate.
"Biden is going to win without his Blue Wave entourage," said Quincy Krosby, chief market strategist at Prudential Financial, on Wednesday afternoon. "He will have his hands tied by [current Senate Majority Leader] Mitch McConnell. That's what the market picked up."
The Associated Press has not called the Senate yet. Two Senate contests in Georgia will head to runoffs in January, where control of the Senate will likely be decided. Republicans won key victories in Maine and South Carolina; Democrats picked up one Senate seat overall; they need three to take control of the upper chamber away from Republicans.
The market also seems skeptical that Congress will be able to pass a large stimulus package to help industries and states that have been hit hard by Covid-19. A "Blue Wave" election could have meant a package worth $3 trillion or more, the kind of spending that investors had expected would force interest rates higher.
McConnell said on Wednesday that he's open to passing a stimulus bill. It's likely that any bill he supports would not be nearly as large as the stimulus measures supported by Democrats. A Republican-backed "skinny bill" offering $500 billion in aid failed to pass the Senate last month after Democrats objected.
A smaller stimulus package means "the reflation trade is not in the cards," Krosby said. On Wednesday, Treasury yields fell as inflation expectations dimmed. And the Russell 2000, a small-cap index that tends to rise based on domestic economic growth, trailed the broader market.
The Associated Press had not called enough races to determine which party would control the House, but analysts were projecting that Democrats would hold on to the chamber. A split Congress might find it hard to pass much economic legislation.
One key Biden priority could be stymied. He wants to spend heavily to promote renewable energy, lifting industries like wind and solar power, and helping some utilities that are shifting their investments to green-friendly power. Biden's climate plan would cost $2 trillion over four years and subsidize investments in solar, wind and electric vehicles. He would pay for it by increasing taxes on corporations and decreasing subsidies for fossil fuel companies. Valuations of renewable energy companies had already begun to reflect a Biden victory. Solar stocks in particular have spiked in the past few months, so they may not have as much room to run now that Biden has been elected. Several solar names fell on Wednesday, though they had rebounded by the end of the week.
Other Democratic proposals would have a more mixed impact on stocks. Biden has proposed limits on stock buybacks during the Covid-19 crisis. And people with taxable income of more than $1 million a year would pay ordinary income-tax rates on their capital gains, meaning they would be on the hook for 39.6% on their stock gains, up from 20% today.
His policies offer pluses and minuses for health care stocks. Some insurers would be in position to gain, because Biden has vowed to expand Obamacare, likely adding to Medicaid's rolls. The details of that plan are crucial, however. If Congress passes a "public option" that people can buy into, it could pressure private insurers to lower their rates. Still, the split in Congress makes a public option unlikely. Insurers like UnitedHealth Group (UNH) have rallied this week because any health care legislation that passed would probably be incremental.
Pharmaceutical stocks could come under pressure if Congress passes legislation limiting drug price increases, a policy Biden has supported.
Financial stocks should gain in a cyclical recovery. Banks would be helped if interest rates rise, but the Federal Reserve may make that harder, because it has pledged to keep benchmark rates low for an extended period.
Traditional energy companies, which have struggled even with business-friendly policies under President Trump, could slump even more under his opponent. Biden has pledged to ban new drilling on federal land, potentially impacting up to 10% of U.S. oil and gas production.
Biden's tax plan would raise taxes on people with more than $400,000 a year in taxable income—the amount after all deductions have been taken. The top income-tax rate would return to 39.6%; Trump's Tax Cuts and Jobs Act had cut it to 37%. Biden says he won't raise taxes on people with less than $400,000 in taxable income.