In college, I had a friend who didn't know that automated teller machines charged a fee if you weren't a customer. We had one in the student center, and every time he needed money, he'd withdraw $20 from the ATM.
He thought he was being prudent by only withdrawing what he needed.
He did not realize he was paying $4 in fees each time; he never looked at the receipt.
He told me about it after coming back to school over the holiday break. His dad saw the statement and asked him why he was withdrawing such odd amounts. Tthey figured out he was paying exorbitant ATM fees each time.
I wasn't any better, though. To avoid ATM fees, I just brought hundreds of dollars to school and hid the money in my desk.
These are examples of the types of bank fees you should never be paying, and here's how to avoid them.
---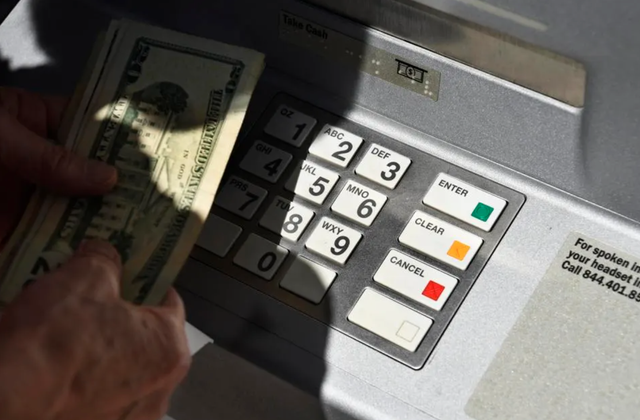 ---
1. Account Maintenance Fees
Account maintenance fees can cost anywhere from $10 to $15 unless you satisfy qualifying conditions to get them waived.
Many brick and mortar banks charge these fees unless you maintain a minimum account balance, receive qualifying direct deposits, or execute a certain number of transactions each month. Since many of these same banks do not pay interest, you're paying a fee and not earning bank interest.
These are easy to avoid when you look for a checking and savings account from an online bank or credit union. Many have minimum required balances of just $1 and don't charge you any maintenance fees whatsoever.
2. ATM Fees
ATM fees vary from bank to bank, but they are typically around $2 - $5. If you use another bank's ATM, the other bank will usually charge you a fee. Your bank may also charge you a fee for using another bank's ATM.
The simplest way to avoid this is to find a bank that will not charge you to use another bank's ATM and will also reimburse you for any fees that the other bank charges you. ATM reimbursements may come with a monthly or per-statement cap.
Another way to avoid this fee is to get an account with a large ATM network. This makes it easier to find in-network and surcharge-free ATMs so you can access your cash without paying a fee. Many smaller banks and credit unions partner with networks like Allpoint or MoneyPass, which have tens of thousands of ATMs across the nation.
3. Overdraft Fees
If you initiate a transaction that brings your checking account balance below zero, that's an overdraft. This can be with a check, a debit card or some other form of payment. Overdraft fees are expensive and can cost as much as $30 to 40 each, but they are completely avoidable if you keep track of all of your expenses.
But we all make mistakes, and there's a better way than relying on our memory? Overdraft protection is when you have a checking and savings account, and the bank automatically transfers funds from your savings to your checking to avoid a fee.
There are banks and credit unions that offer this service for free. You still want to keep track of your account balance and your activity, but it's nice to have an account that won't charge you if you make a mistake.
4. Account Inactivity Fees
Some banks will charge you a fee of $5 to as much as $20 if you don't transact on the account for a specified period of time, often as little as six to 12 months. These are not as common as some of the other fees listed but still one to be aware of.
If your bank charges you an inactivity fee, set reminders to make transactions such as a small deposit or a charge on the debit card. Alternatively, switch to a bank that doesn't charge you these fees.
5. Paper Statement Fees
If you still get paper statements in the mail, your bank may be charging you a few dollars each month ($2 to $5 usually) to send them to you. With online banking websites and apps, these statements are often unnecessary. If you are being charged a fee for paper statements, switch to electronic statements to easily avoid this.
And if you aren't being charged a fee, consider going to electronic statements anyway because it can save you time. Use online banking instead and skip opening more pieces of mail.
6. Wire Transfer Fees
Wire transfers allow for near-instant payments but can be expensive for both the sender and the recipient. It's one of the few fees where you have to pay to send but also pay to receive a wire transfer. Wire transfer fees can be as much as $30-40.
If you send and receive wire transfers often, the best way to avoid fees is to get a bank that will waive them. If that's not an option, find out if a wire transfer is even necessary. You can make a transaction with a payment or money transfer app, like Zelle or Venmo, or rely on the ACH system that takes up to two business days.
7. Account Closure Fees
Banks may charge you an account closure fee if you opt to do so within a specified number of days of opening the account. This time period can be as little as 90 to 180 days.
This is common for banks that offer a cash bonus for new accounts. This is less common for accounts that don't pay a bonus.
The only way to avoid this is to review if your bank has an account closure fee and satisfy its conditions before you close it.
Final Tip: Ask The Bank To Waive The Fee
Now that you know about the bank fees you should never pay, what should you do if your bank has charged you? In some cases, you can ask for them to be waived.
If you get hit with an overdraft fee and rarely overdraw from your account, call customer service and ask to have it refunded. Sometimes you may have to ask for a supervisor or manager to get it waived because the service agent doesn't have the authority, but it's worth a quick phone call to find out.
Then, consider looking for a bank that won't charge you for overdrafts.
© 2023 Forbes Media LLC. All Rights Reserved
This Forbes article was legally licensed through AdvisorStream.