Kelly Anne Smith
Nov. 7, 2019
A-Rod's back—but not with a bat in his hand.
The former Yankees slugger Alex Rodriguez's new series Back in the Game is premiering on CNBC. The show follows Rodriguez as he helps professional athletes and entertainers get their money back on track after experiencing financial distress.
"Being in the industry for over 25 years now, I've seen so many great people that were teammates of mine, colleagues of mine, people in sports that have gone from rags to riches to hard times again," Rodriguez says. "We saw it as an opportunity to actually do something about it and walk the walk."
Details on A-Rod's New Show Back in the Game
Back in the Game focuses on an important aspect of athletes and entertainers finances: Their careers can be short-lived, and many find themselves struggling after the big paychecks stop.
---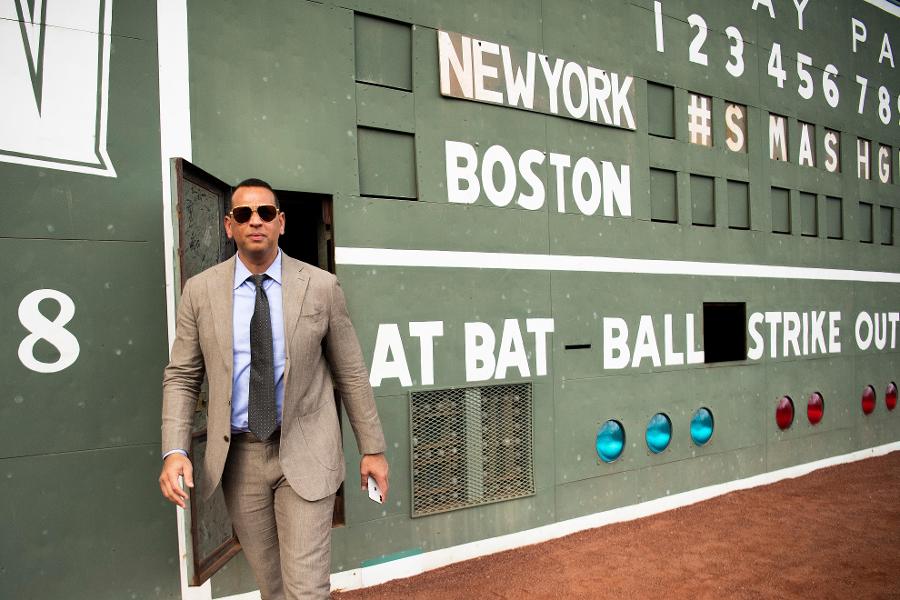 ---
Even when you make millions, not having basic money management skills will hurt you in the long run. The National Bureau of Economic Research finds many retired NFL players file for bankruptcy soon after they retire, indicating that their median earnings of $3.2 million were poorly managed.
Rodriguez himself has come a long way: He and his two siblings were raised by their mother in a single-parent household and "grew up poor,'' he says. Today, Rodriguez is one of Forbes' highest-paid athletes of all time, earning some $600 million during his career.
Though he's had major success, there have been some big setbacks. After his 2014 suspension from the MLB for using performance-enhancing substances, he claims he lost north of $45 million.
"I always lead with my mistakes and it's so important for me to talk about those. Learning from my mistakes is an opportunity for them," Rodriguez says. "And if they can avoid some of those mistakes, that's important."
So why trust A-Rod as a money and business coach? Most people know him as the three-time MVP and World Series champion, but he has more to offer than just a Golden Glove. Today, Rodriguez is an avid entrepreneur and the founder and CEO of A-ROD Corp., an entity focusing on real estate investments, fitness, philanthropy and entertainment ventures.
Throughout the show, viewers are flies-on-the-wall in pitch meetings, boardrooms, and closing deals. Rodriguez will help champion-boxer Evander Holyfield, Olympic gold medalist Ryan Lochte, actress Nicole Eggert, and comedian Brian Dunkleman. In each episode, Rodriguez walks participants through how to pay off their debt, repair their reputations and launch lucrative businesses.
A-Rod's Top Money Tips for Financial Success
Though the show focuses on high-earners, some principles of money management apply broadly to everyone.
In an interview with Forbes, Rodriguez shares his five money tips for financial success:
1. Knowledge Is Power
Before you turn to spreadsheets, creating a budget or coming up with a financial plan, build a strong foundation of knowledge.
"The best investment you can make is in yourself," Rodriguez says. "Educate yourself any way you can with knowledge, education, a coach—understand the markets and be financially literate. Knowledge is power."
If you aren't sure how to start building your financial knowledge, check out websites of government bureaus, like the Consumer Financial Protection Bureau (CFPB) or the Federal Trade Commission (FTC). These organizations focus on consumer education and advocacy, providing information on things like budgeting, loans, planning for retirement and protecting yourself from scams.
If you already have basic knowledge but need some hands-on help, there are free programs available to walk you through your financial situation. Capital One offers free money coaching to help individuals identify their financial goals and come up with solid plans to make them happen.
2. Surround Yourself With The Right People
One way to stay on track with your financial goals, whether that's saving for your future or sticking to a monthly budget, is by surrounding yourself with like-minded people who will support your plan.
If you're paying down debt, you'll want to have friends and family as a support system—which means they'll be understanding that you can't attend every happy hour or take that trip to Cabo. Staying on track doesn't have to mean not having fun, but it does mean establishing a plan and sticking to it.
"Put yourself in a position to win—not only now but in the future," Rodriguez says. "You do that by surrounding yourself with great people who have high character and have the proper alignments with you and your family."
Star athletes who have lost fortunes sometimes end up blaming (and suing)  their financial advisors. But the truth is, surrounding yourself with the wrong people can harm your finances no matter who you are.
3. Be Proactive, Not Reactive
Rodriguez says setting up plans is crucial to an individual's finances. He says being proactive instead of reactive is the best way to make this happen.
Coming up with a plan can be as easy as building an emergency fund to help tide you over, should you suddenly find yourself out of work unexpectedly. Almost half of Americans don't even have $400 to cover a financial emergency, so focusing on building this cushion is a great start.
Having cash on hand is always a good step in the right direction. Emergency funds are proactive measures to protect yourself from making reactive choices, such as taking out a high-interest payday loan to cover unexpected costs.
4. It's Not How Much You Make, It's How Much You Save
One major lesson Rodriguez teaches participants in Back in the Game is to put money away for their future. In a time where Americans are becoming solely responsible for their retirements with the vanishing of pensions, this is a lesson that needs to be learned early.
The standard advice is to save enough money to replace 70-80% of annual pre-retirement income. Individuals who have the advantage of stashing that money away in employer-sponsored accounts, or 401(k)s, can boost their annual savings each year with an employer-match and pre-tax benefits.
If your employer doesn't offer a retirement plan, you can open your own individual retirement account (IRA) and still receive some enticing tax incentives.
The sooner you save, the better—thanks to the magic of time and the compounding of investment returns.
5. Always Know the Bottom Line
It doesn't matter if you're paid millions or median wages ($923 a week according to the Bureau of Labor Statistics); you need to know where you stand each month with your money.
"One of the things we always talk about is know your numbers, and I watch the bottom line every month," Rodriguez says. "And I do that with the company that we own, I do that with our management team, our real estate—and I also do that for my own personal life. No one can do that for you—you need to do it yourself."
This article was written by Kelly Anne Smith from Forbes and was legally licensed by AdvisorStream through the NewsCred publisher network.
© 2020 Forbes Media LLC. All Rights Reserved
This Forbes article was legally licensed through AdvisorStream.