Reservations for the Polynesian-themed dining room of Mama's Fish House on Maui's north shore typically book out a year in advance. But the family-run, 42-table restaurant has been quietly empty following the recent fires that ravaged other parts of the island.
The lull has allowed the kitchen to provide nearly a thousand meals a day to first responders and displaced residents. However, its 250 employees, not to mention the local farms and fisherman the restaurant sources from, worry about their future, which clings to tourism.
---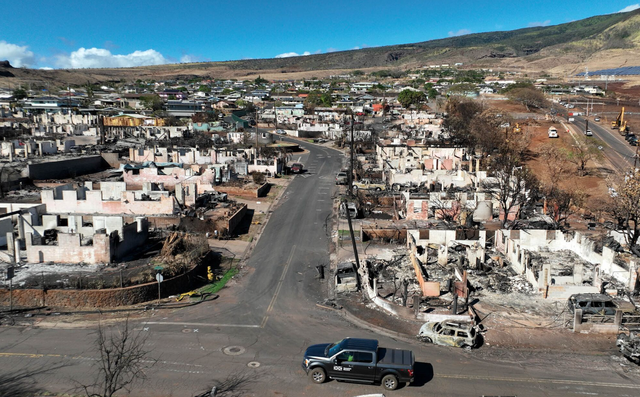 ---
On August 8, fast-moving wildfires blazed across Maui, decimating the historic town of Lahaina on the island's west side and destroying 19 homes upcountry. The deadliest fire in US history, it has left more than 110 dead and 1,300 people still missing.
Maui Governor Josh Green immediately ordered tourists on the island to leave and on August 9 issued a statement encouraging travelers to avoid all non-essential travel to Maui. The Hawaiian Tourism Authority adopted the same messaging, as did native Hawaiian stars like actor Jason Momoa and musician Paula Fuga. "Our community needs time to heal, drive, and restore," posted Momoa.
Yet a few days later, state officials flip-flopped. "Maui is not closed," Maui County mayor Richard Bissen said at a press conference on August 12. "Many of our residents make their living off of tourism." In his latest emergency proclamation on August 16, Governor Green urged tourists to travel to unaffected areas of Maui but postpone all non-essential travel to West Maui, which includes the popular resort spots of Napili, Kaanapali, Kapalua and Lahaina, through August 31 so that resources there can be used to help residents recover. The Hawaii Tourism Authority has echoed that messaging, suggesting that tourists are welcome on the island and should only refrain from visiting West Maui.
The mixed advice has underscored how deeply Hawaii's economy relies on tourism, and residents more broadly are starkly divided about encouraging visitors at this sensitive time.
The Maui Economic Development Board estimates that the island's "visitor industry" directly or indirectly accounts for roughly four out of every five dollars generated on the island. Many Maui residents are appalled that visitors are still coming to sunbathe and sip Mai Tais while they grieve the loss of loved ones, homes, businesses and the many cultural sites in Lahaina, the kingdom of Hawaii's former capital. Others aren't thrilled to return to work and pretend to be full of aloha.
"We're not in the mood for tourists right now," says Martin Giroud, 49, a Haiku resident who has been volunteering daily at local shelters. "Right now it's a grieving and solidarity moment for our island."
A social media post of a snorkel boat in the waters on the west side on August 12 sparked outrage among locals. "People leaving Lahaina with nothing can see that activity … shame on you," scolded the resident who took the video. The company's owner, Mark Elmore, later issued an apology and clarified that proceeds from the trip were going to fire relief.
Dustin Tester, 50, owns Maui Surfer Girls surf school and typically holds lessons on the outskirts of Lahaina. Seven of her employees lost homes to the fires, and she lost her company truck. "We have inquiries about lessons but it doesn't feel right to have people driving past a bunch of girls having fun in the water as they head to the ashes of their homes," she says.
Tester plans to assess the situation week by week. She hopes to restart lessons by late November and plans to offer opportunities for participants to give back to the community.
Before the fires, Hawaii's tourism economy was just beginning to rebound from the economic hit of the Covid pandemic. Last year, the state welcomed more than 9 million visitors. During the first quarter of 2023, the 2.4 million visitor arrivals by air reflected a 21.5% increase compared with the same quarter in 2022.
The fires have pushed those recovery efforts back. In a press conference on August 14, Governor Green said people not directly affected by the fires would not receive aid from the recent disasters and that closing the island would be catastrophic to Maui's economy.
Karen Christenson, who grew up in Lahaina, was recently handed the legacy of Mama's Fish House, which her late parents founded in 1973. She says the fires are like a pandemic déjà vu. "Everyone feels this," she says. "It trickles down to hit everyone from the people we get our coconuts and ti leaves from to the beer delivery truck driver." She's planning to start a digital fish retail operation so locals can buy directly from the fishermen the restaurant works with.
Staff there are facing shorter hours. Greg Henschel, 64, and a longtime valet at the restaurant, says he's going to volunteer to pass shifts to people with families and mortgages. He is single and has savings, but also notes it's been hard to put on a happy face for tourists considering the destruction and loss of life.
Kahului Airport has remained open, and major airlines are still flying to the island. But travelers with future plans to visit the island have been left with questions: Will they be taking a hotel room that could go to a displaced resident? Will they feel welcomed? Is the ocean okay to swim in? Will they be taxing precious resources?
West Maui will not be welcoming tourists until the fall, per the governor and HTA. Ilihia Gionson, a public affairs officer for the Hawaii Tourism Authority, says that as a state agency, HTA follows state guidance.
He acknowledges that it has been constantly evolving. "The fires took out communication in the early days so it was very challenging to receive accurate information, if any at all," he says. The main road to the island's west side was reopened on August 16, but HTA has emphasized that the town of Lahaina is off limits to the public. Glonson expects that guidance will be extended.
HTA has directed tourists with plans to visit other parts of the island to their hotel operators for travel guidance. Advisories on water safety have not yet been issued.
In the meantime, tourism and access have been dramatically reduced.
More than 11,000 people—most of them visitors—have flown off the island since the fires began. And the number of airline passengers to Maui on Sunday was down nearly 81% compared to this time last year, according to the Hawaii Department of Business, Economic Development and Tourism.
Airlines like Southwest and American have issued travel vouchers and waived change fees for flights to Maui through August 31. United Airlines has already temporarily canceled flights from Denver and Chicago to Maui through October 28 and flights from San Francisco and Los Angeles to Maui have been reduced, according to spokesperson Russell Carlton.
Hotels in West Maui have temporarily stopped accepting bookings on future reservations. They are currently housing 1,000 employees, evacuees, and first responders, with more to come, according to officials. A temporary housing task force has been set up by the government and 260 displaced people are in four American Red Cross shelters across Maui, reports Marc Arakaki, a spokesperson from the State of Hawaii Joint Information Center.
On August 16, Governor Green announced that Airbnb.org, a nonprofit organization dedicated to facilitating stays for people in times of crisis, will work with nonprofit organizations like Maui Economic Opportunity to connect people with temporary housing. Many hotels, including hotel operator Hilton Worldwide Holdings, which has 23 properties throughout Hawaii, said it was waiving cancellation penalties for those traveling to, from, or through all of the islands until the end of the month.
Kainoa Horcajo, a cultural consultant and volunteer at Maui Rapid Response, a citizen disaster response team, notes that every community and individual has different opinions right now. "People lost jobs, family members. It's hard to go back to work, but we don't want this to turn into two crises."
He encourages visitors to come with compassion, understanding and a willingness to give back. "We've always asked visitors to be respectful," he says. "That message hasn't changed." Maybe it's time to rethink what a trip to Maui looks like, he says. "Instead of a beach vacation maybe it should be a volunteer opportunity; a chance to connect with locals in a meaningful way."
© 2023 Bloomberg L.P.