By Matthew Kronsberg
Aug. 1, 2023
WALKING THE Camino de Santiago is, for many, the trip of a lifetime. It's a spiritual and physical milestone, the culmination of months, if not years, of preparation.
For author and actor Andrew McCarthy and his son, Sam, the monthlong, 500-mile trek along the ancient Camino Francés across northern Spain, was indeed a monumental experience. Rigorously planned? Not so much. Just two days elapsed between the time Sam agreed to go and the moment the pair boarded a plane to Spain. "I knew [Sam] would change his mind if I didn't move quickly," said McCarthy.
---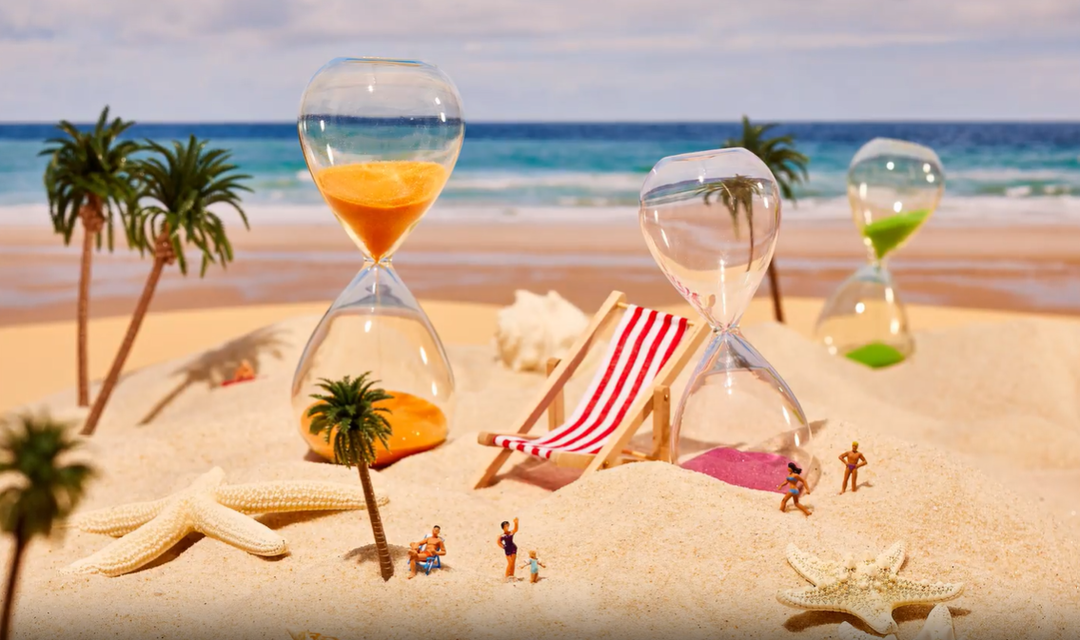 ---
He isn't the only one plotting trips at warp speed. In the second quarter of 2023, one third of all leisure travelers surveyed by market research firm Omnitrak made their travel decisions within two weeks of departure (up from 28% in 2022). And more than half did so within a month. "These are 'carpe diem' travelers who seize the opportunity to travel at a moment's notice," said Omnitrak's president Chris Kam. 
Monitor a hotel's social media or join the wait list to try to reduce a year's wait to a week. 
If you've seized zilch so far this summer, take heart, said Jack Ezon, founder of New York-based luxury travel planners Embark Beyond. Encouragingly, he reports that the best time to book peak season is either way in advance—like six months—or super close-in, like seven to 30 days. This year, waiting paid off more than ever. The average airfare in June was 18.9% cheaper than it was last year, and 8.1% less than just a month prior. 
All this makes right now the perfect time to rethink how, why and where to travel at the last minute. Upend your trepidation about getting stuck in the worst room or having to eat dinner at a convenience store. Consider the following points, then, as McCarthy put it, "Just go." 
1. Be ambitious in your own way
There are many paths, and timelines, to Santiago de Compostela—not all of them as long as the iconic Camino Francés route that McCarthy recounts in his new book, "Walking with Sam."
If you have only one or two weeks, "it makes sense to consider the less trafficked routes," said Joe Curro, Jr., of American Pilgrims on the Camino, a nonprofit group in Olympia, Wash., that offers guidance on doing the pilgrimage. Presuming you maintain a typical pace of 12 to 15 miles a day, he says, you should be able to complete the Camino Inglés "in about six days." Advance reservations for lodging are rarely necessary. The network of simple albergues and inns on the Camino are well suited to house those booking on the fly.
And don't get too hung up on packing, said McCarthy. "You're passing through towns everyday and can get everything you need along the way. There's nothing you can't MacGyver."
2. Be less ambitious and relax 
Eric Verkerke would never call tiki drinks and surfing lessons in Hawaii a consolation prize, but they weren't his plan, either. The California-based co-founder of Emergence Creative and his fiancée were planning a Tahiti trip this summer, until he realized his passport had expired. After navigating a Kafkaesque, and ultimately fruitless, quest for an "emergency" renewal, the couple recouped what they could on their Tahiti getaway and put together an escape to Oahu for their time away.
They bunked at the Hyatt Regency Waikiki Beach Resort & Spa, and between learning to ride the waves with Moniz Family Surf and drives to Lanikai and Waimea Bay beaches, they sipped tiki cocktails at the Skull & Crown Trading Co., and had one of the "best meals we've had in years" at Senia. It was a departure for the couple who typically seek out adventure in remote spots. "It forced us to be a little less ambitious and just relax," Verkerke said.
3. Beat the influencers
If you'd started planning a trip to Paris for this summer months ago, you wouldn't be nesting at La Fantaisie, a new hotel in the ninth Arrondissement that just launched in July. According to general manager Guillaume Sauge, the plan has been to "open our capacity gradually." As he points out, "availability is easier the first months" before news spreads.
For hotels like La Fantaisie with a cool pedigree—Swedish architect Martin Brudnizki designed it and Michelin three-star chef Dominique Crenn conceived its restaurant Golden Poppy—the best time to book is while the paint is still fresh. Wing-it travelers know this hack, according to Tisha Neufville, owner of Atlanta-based Neufville Travel. "[I have] a good number of clients who definitely geek out over staying in completely new hotels," she said.
While the advantages include discounted opening rates, better staff-to-guest ratios and the bragging rights that come with beating the influencers, Neufville reminds clients there's a trade-off: Not all amenities may be in place. 
4. Beat the weather
It's no secret that summer is the low season in the Caribbean. Concern about hurricanes and volatile weather often lead hotels like Cobblers Cove in Barbados to discount rooms for those willing to risk a washout.
But procrastinators have the advantage of consulting an extended weather forecast to mitigate much of that risk, said Scott Keyes from Going, a website that sends subscribers alerts about deals on flights. "If you book a flight a week or two out, you have a much clearer idea of whether or not a hurricane is in store," he said. It's advice he's taken himself. "One of my favorite trips was to the Dominican Republic in September. It wasn't too hot. It was balmy at night. You didn't see nearly the number of tourists you see at Christmas and New Years."
5. Skip the wait
Demand so outstrips supply at some hot spots that landing a table or a bed requires the foresight of booking months in advance. That's the strategy employed by most guests at the Milkweed Inn deep in the Hiawatha Forest in Michigan's Upper Peninsula. But two or three times a month, cancellations happen, said the inn's chef and co-owner Iliana Regan.
For last-minute trippers ready to pounce, monitoring an inn's social-media accounts or submitting a request to be put on a wait list can reduce a year's wait to a few weeks. Likewise, while last-minute flights, especially to Europe in the midst of peak summer travel, can be prohibitively priced, travel-with-miles rewards might help you secure a prime seat closer to a departure date, said Clint Henderson, managing editor of news at the Points Guy. "A colleague snagged a [Lufthansa] first-class seat two weeks ago, just 36 hours before departure."
5 Labor Day Cruises to Book Now
In search of a last-hurrah adventure? Your ship just came in at the following destinations: 
1. Alaska 
Cruise lines have their full fleets back in Alaska, making 2023 one of the most cost-effective times to visit the nation's 49th state via ocean liner. One such value offering? Holland America's seven-day "Glacier Discovery" explores the Inside Passage, a web of waterways, departing from Vancouver, British Columbia, aboard the Noordam with stops in Juneau, Skagway and Glacier Bay National Park.
Dates: Aug. 20-27, 2023
From $329, HollandAmerica.com
Barcelona, Portofino, Cannes, Florence, Pisa and Rome: The chance to make multiple stops in the Mediterranean on the Celebrity Edge cruise is a draw. PHOTO: CELEBRITY CRUISES
2. The Mediterranean
Like a highlight reel of European hot spots, this seven-night "Experience the Mediterranean" voyage on the Celebrity Edge starts (and ends) in Barcelona and visits Cannes, Portofino, Florence/Pisa and Rome. How else could you bundle Gaudí, the Promenade de la Croisette and the Leaning Tower without the hassle of flying?
Dates: Aug. 26-Sept. 2, 2023
From $1,099, CelebrityCruises.com
Hot tubs and beach clubs: Stops in the Dominican Republic and the Bahamas are a part of a Virgin Voyages' cruise that begins and ends in Miami.VIRGIN VOYAGES
3. The Caribbean
If you're planning a surprise trip on Virgin Voyages, why not use its "Jen A.I." gimmick, and have Jennifer Lopez deliver the news to your lucky companion via a personalized video email? Book the five-night "Dominican Daze," a sun-fueled round trip from Miami on Virgin Voyages' Scarlet Lady ship with stops in the Dominican Republic's Puerto Plata and the Beach Club at Bimini in the Bahamas. Pack plenty of reef-safe SPF.
Dates: Sept. 1-6, 2023
From $1,820, VirginVoyages.com
Those interested in nature will find much to see on Aqua Expeditions' trip to Indonesia, that includes a visit to Komodo National Park. PHOTO: AQUA BLU
4. East Indonesia
Act fast to secure a 20%-off spot on a seven-night Indonesia-Bali voyage aboard Aqua Expeditions' 15-room Aqua Blu, a luxury ocean explorer yacht. Visit Komodo National Park, which spans Rinca, Padar and its namesake island (the hangout zone of komodo dragons), a dive-friendly refuge rich with marine species. April through October is the dry season for this pocket of the world, translating to good weather.
Dates: Aug. 26-Sept. 2, 2023
From $8,960, AquaExpeditions.com
Astronomy-keen travelers with dwindling PTO days can journey on MSC Seaside's tour of Florida's 'Space Coast.' PHOTO: IVAN SARFATTI/MSC
5. Bahamas 
Can't commit to a full week on the water? Consider a fast and furious four-night jaunt aboard the MSC Seaside that begins and ends at Florida's "Space Coast," near Orlando, with stops in the Bahamas and Ocean Cay Marine Reserve. Build your optional-excursion days around a visit to the Kennedy Space Center, shipwreck snorkeling, wave-runner tours or soaking up the sun on the deck of a catamaran.
Dates: Aug. 27-31, 2023
From $239, MscCruisesUsa.com
—Dana Wood