By Joanne Lipman
July 7, 2023
As we barrel into summer vacation season, almost half of us with paid time off won't take all of it. For the sake of your career, don't be one of them.
---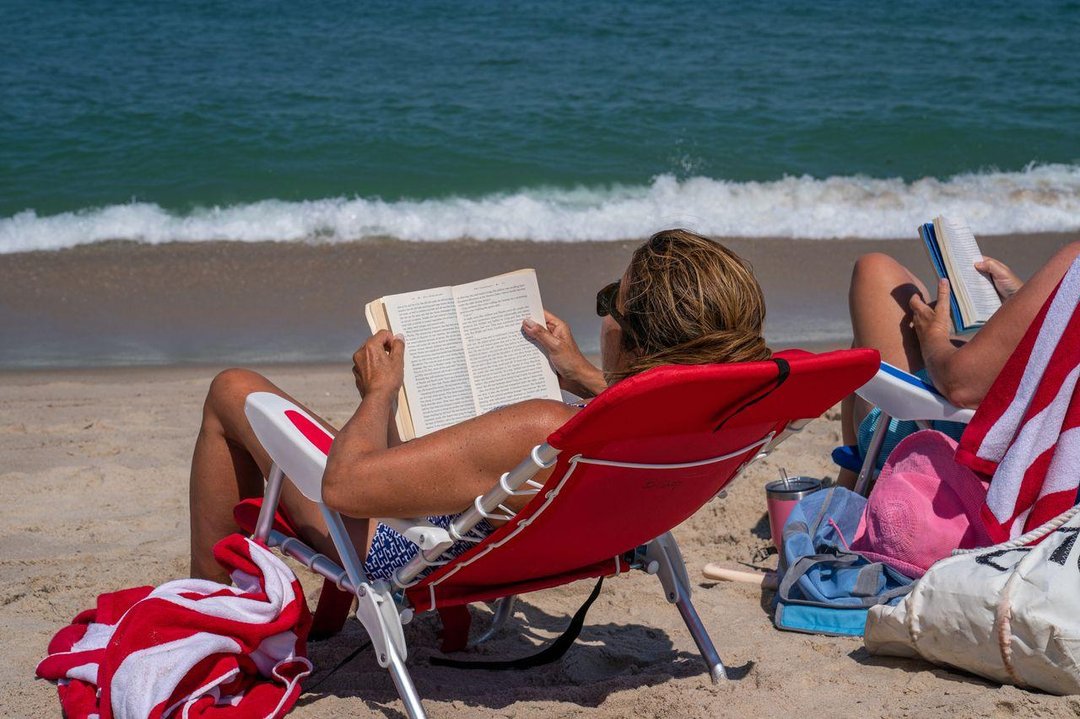 ---
Of course, time off is good for your physical and mental health, helping to reduce heart disease, stress, depression and anxiety. But taking that vacation isn't just good for your well-being; it's great for your working life and aspirations. I've spent the past three years researching innovation and creativity, and I've interviewed scores of individuals who have experienced career breakthroughs, along with scientists and academics who study innovation. The message that emerges is clear: If you want to be more successful at work, the best thing you can do is step away from it.
When Ernst & Young studied its own employees, it found that taking 10 hours a month of vacation time was associated with an average 8% boost in annual performance ratings. A separate study of more than 5,000 people published in the Harvard Business Review concluded that those who use more of their vacation days are promoted at almost twice the rate of their counterparts who leave substantial numbers of days on the table.
When Boston Consulting Group required consultants to take time off—one full day or even just one night a week—they initially were anxious, fearful that they would upset clients and deliver substandard results. But the consultants ultimately found that the time away enabled them to take a fresh look at projects and deliver a better result. The firm now offers multiple time-off programs, including the ability to take eight-week sabbaticals.
BCG's Mark Kelly, senior director of global benefits and well-being, says a recent weeklong trek snowshoeing through the Arctic Circle, with no access to electronic devices, gave him a new idea for a team-building exercise at the firm. It also helped improve his coaching style, because when younger travelers asked for career advice, he allowed them to come up with their own conclusions, rather than jumping in first with the answers, as he often did at work. "From a leadership and coaching standpoint, I couldn't have gotten those skills in a classroom," he says. "I end up having a lot more ideas for the future" by taking vacation time.
Time off boosts work performance in part because it acts as jet fuel to supercharge creative thinking. Psychologists call this downtime an "incubation" period, during which you are consciously ignoring a problem and after which your unconscious rewards you with a fresh insight or solution. They theorize that when you are occupied with nonwork matters, your brain is able to noodle ideas in the background. What's more, as you engage in other activities, you're vacuuming up additional information, mixing in even more potential thoughts that can coalesce into new ideas.
For those who can take extended time off, the results can be transformative. Deborah S. Linnell and Tim Wolfred surveyed 61 nonprofit executives who had taken sabbaticals of several months each and found that in addition to relieving stress, the time away allowed them to "spark creativity," develop "out-of-the-box" thinking and introduce new visions for their organizations.
Jonathan Schooler, a psychology professor at the University of California at Santa Barbara, credits a sabbatical as the catalyst for his research on mind-wandering. For the first few decades of his career, he researched memory, but during a 1998 sabbatical, he began pondering the role of daydreaming. The time away gave him the chance to nurture those musings, which, "led me to mind-wandering and other major ideas that I've been reaping ever since."
If you don't have the luxury of a sabbatical, even a few days will do the trick. A 2012 study published in PLOS One found that after people spent four to six days hiking in Alaska, Colorado or Washington, without electronic devices, their scores on a creative problem-solving test soared by 50%. Researchers have found that multiple shorter breaks throughout the year have comparable benefits to a long vacation.
Yet 46% of employees with paid time off don't take all of it, a recent Pew study found—and almost half of those said the reason was they feared falling behind. At the end of 2021, Americans with paid time off left an average of almost two weeks of vacation days on the table. And when we do take vacation, half or more work at least part of the time anyway.
Part of the problem is disentangling ourselves from a culture that fetishizes busyness. I once accompanied a hard-charging colleague on a cross-country business trip to visit clients. As we landed in Los Angeles late one night, after an exhausting jaunt through a series of Midwestern conference rooms, I begged for downtime, saying I couldn't wait to check into the hotel and get some shut-eye. My colleague snickered. "Sleep is for suckers," he said.
Like my colleague, many of us keep working past the point of exhaustion. We're human versions of Boxer, the worker horse in George Orwell's "Animal Farm," repeating, "I will work harder!" until he collapsed. Some 43% of employees put in more than 45 hours a week, even though a global study of workers in 194 countries concluded that in 2016, excessive work hours—defined as more than 55 hours a week—led to about 745,000 deaths, making overwork "the largest of any occupational risk factor calculated to date."
Companies have sporadically tried to urge employees to take a break. Some offer stipends for vacations: $1,000 a year if you work for the organizational-products firms Evernote and Calendly, and $2,000 a year for Airbnb and the corporate-software company BambooHR.
"This is the first place where I've felt safe to take vacation. It's a new muscle for me, and that's difficult" says BambooHR executive Anita Grantham. She says she's found that "when I get time away I'm better for the business, I'm more thoughtful, I'm less frazzled, and I come up with better solutions."
Even Goldman Sachs, as of this year, began requiring employees to take off three weeks. Goldman is also among the growing number of companies that offer unlimited time off, from tech firms like Netflix, Vimeo and Roku to traditional companies including General Electric. Such a perk, however, is sometimes counterproductive, increasing employee anxiety for fear that they'll take too much. A 2017 study found that employees offered unlimited paid time off actually end up taking two days less, on average, than their peers with set vacation time.
So if you are among those fortunate enough to get paid time off, take it. If that's too daunting, start small, with a few long weekends. And if even that is too much, just start planning. A Dutch study found that simply anticipating a vacation in the weeks before you take one will boost happiness—and happy employees are 12% more productive than their less happy counterparts. It's a virtuous circle. Taking vacation may be one of the very few things in life that is equally good for your health, your well-being, your family—and your career.